The sport of golf is also a popular one on the betting scene, with hundreds of millions of pounds wagered on events throughout the year, with the summer providing a huge spike in stellar events to make up the football close season.
Something that makes golf such a hit for punters is its depth when it comes to the volume of events, along with a nice variety of markets available for each tournament. Golf can provide great value to bettors in the form of lucrative odds for less-fancied players, and the major tournaments are amassed with great promotions and betting bonuses to keep punters playing.
What makes golf a particularly attractive proposition for newcomers is the relative straightforwardness of its betting markets, which align reasonably closely to other sports that punters may have betted on previously, which make it an easy new market to venture into.
In this guide we will be taking a look at the odds and markets that make golf such an enticing betting proposition, along with tournaments and players to watch out for, before finishing off with our ten golden rules for betting on golf.
The Best Bookmakers' Offers
In order to make your betting activities more comfortable, we've gathered a top bookmakers list that will help you to find the best place for your golf betting. We've checked in details all the bookmakers in order to recognise which of them provide excellent offers, high odds, and various markets for your golf bets.
Odds and Markets for Betting on Golf
If I was to rank golf in regards to its depth of different markets, I certainly wouldn't put it amongst the best sports, but it does make up for a perceived lack of markets with some fun novelty options. Let's take a look:
Outright Winner
Nice and straightforward – you're simply betting on who you think will win the tournament in question. You can also place each-way bets on this, which we will talk about in more detail later on in the guide.
Top 10
Will your chosen player finish in the top ten at the end of the four days? With huge fields at most tournaments, this isn't as easy as you'd think, but is still a popular market. We also have Top 20 and Make The Cut variations of this bet, albeit at slightly reduced returns.
Match-Up Bets
This is where the bookmaker can pair up two competing golfers in a tournament, and you are tasked with selecting who you think will perform the better of the two, whether it be over the course of a single round, or the entire tournament. To ease congestion on courses, players complete the course in pairs, or sometimes in trios, and these can form the basic match-up bets provided by the bookie, and can be a fun way to follow the action if you want to stick to just one set of players all the way around the course.
First Round Leader
Golf tournaments are split into four rounds over four days. At the end of each day, like at the end of every round in a football league, you will have a tournament leader who has the lowest score after the first 18 holes. Perhaps you know of a player who is traditionally a fast starter, whilst also enjoying the style of course that the tournament is played on. If that's the case, then this is the bet for you.
Hole in One
One of the many novelty bets available, where you are making something of a punt on there to be a Hole in One (A tee shot that goes directly into the hole) at any point over the four days. If you have some spare change in your betting account you may want to have a flutter on this.
Nationality of tournament winner
For the patriotic bettors amongst us, this bet is a good one for if you are perhaps torn on who to bet on between two or more players of the same nationality. An example would be in a tournament that has historically had a large proportion of American winners, such as the US Open, which as seen a whopping 85 American wins in its 119 year history.
Big Tournaments for Betting on Golf
We will begin this section by going through the top four golf tournaments of the calendar year, known as the majors. These are where top players from all tours (which we will mention later in this section) meet over four days in four tournaments in different locations around the world. They are:
The Masters
This is the first major event on the golfing calendar, and stands out as the only major to be played at the same location every year, at the beautiful Augusta National Golf Club in Georgia, USA, on it's stunning parkland course. You may know this one by its infamous Amen Corner stretch of three holes that are notorious for dramatic moments that go a long way to deciding the tournament. Winners of this event are not only presented with a handsome sum of money, but the famous green jacket, which is presented to them by the winner of the previous year's tournament.
The Open Championship
While The Masters takes place in late April, The Open traditionally is held in the month of July, and is the oldest golf tournament in the world, with a history stretching back more than 150 years. The Championship is held at a different British course every year, featuring locations like St Andrews and Carnoustie.
PGA Championship
The second American major of the year took place after The Open Championship until 2019, but switched to May to become the second major event on the calendar. Like The Open, it takes place on a different course every year, with the most recent tournaments taking place in New York, Missouri and North Carolina.
US Open
The oldest and arguably the most traditional of the three American major tournaments, the US Open is the most lucrative of the four majors, with a prize pool of more than 12 million dollars.
Outside of the major events you also have the prestigious Ryder Cup, which is a three-day team event that pits the best American players against the cream of the European crop. Over the weekend, the two teams take to the course in various smaller-team formats for points that go towards an overall team total, and the team with the most points takes the cup home for a couple of years.
Away from the glitzy glamour of major events and the Ryder Cup, the bread and butter for professional golfers are the tour events. The two main golfing tours are the PGA Tour, which takes place on courses across the United States, and the European Tour, which is also run by the Professional Golfers' Association, but, as the name suggests, the tour takes place all over Europe. These tours comprise of weekly tournaments that traditionally take place from Thursday through to Sunday, and with a huge amount of travel and practice in between events, we all of a sudden have a hugely intensive schedule for competitors, as well as a betting buffet for punters.
It must also be noted that golf has a rapidly developing women's game, with the LPGA Tour providing yet another avenue for bettors to make some extra cash.
High and Low Season When Betting on Golf
Like with many sports in 2020, golf enjoys a fairly uninterrupted schedule, which makes it an attractive betting proposition for punters who are looking for a stable sport to invest in.
That said, if you are looking for the best betting promotions during golf season, your best bit would be to set aside a larger portion of bankroll for the four-month spell between April and July which takes in all four of the sport's major events (head to the Big Tournaments section of the guide to find out more about those).
Aside from the majors, you won't be short of events to bet on, as the PGA and European Tours operate throughout the calendar year.
Betting on Golf In-Play
The balance and momentum of a golf event can change in a single stroke. A wayward shot into a bunker or a glorious iron strike onto the putting green can make or break dreams of major glory.
These ever-changing factors can be taken advantage of in the form of in-play bets. If you have access to a stream of the day's play, you will be able to get a gauge of a player's form and momentum, and by coupling that with your prior knowledge of the player's general play and their previous performances at the course, you can place timely bets that ensure maximum returns.
Bookmakers often offer odds on a player to score above, below, or on par for the next hole. If you know that a player has been performing well on par 3s all season, for example, you may be wise to place a bet on them to scored a birdie on the next par 3 hole they play.
Trading on Golf
The versatility and popularity of golf makes it an excellent sport to develop a trading portfolio in. The likes of Betfair and Smarkets are hotbeds for golf trading activity, and you can make a pretty penny yourself by acting as the bookmaker and offering odds to other punters, on players you aren't expecting to have a good week on the course.
Let's head back to Augusta for a look at the back and lay odds for players in The Masters. In this example we're going to be taking a look at Dustin Johnson.

Focus on the blue and pink strips of odds for the timebeing. As you can see, while there is the option to place a bet on Johnson to win the event, at odds of 19.5, there is also the option to "lay" the bet, or in other words, to bet on Dustin Johnson to NOT win The Masters.
Another slight difference between the two bets is when you place your stake. In the case of lay bets, your stake bet equates to the amount of overall profit that you would like to make from the bet. Now, before you tell me that you want to make a lot of profit on every bet you place, the caveat with placing lay bets is you need to have enough money in your account to pay out on bets that have been placed on Dustin Johnson to win the event. Let's take a £50 lay bet on Johnson. To calculate the amount of liability you need in order to place the bet, you need to calculate your stake by the odds given, minus your original stake.
So in this case: £50 x 21 = £1050, minus £50 = £1000.
As you can see, this can represent quite an expensive bet, but providing your bet is backed up by a foundation of sound research and reasoning, you can put yourself in a strong position to make some steady returns.
Betting exchanges also provide bettors with the option to "trade out" their bet in exchange for most of your potential returns, which eradicates the potential of a player choking at the sharp end of a tournament and costing you a big win. This works by placing a bet that is the opposite of the bet you originally placed, which then locks in profit by backing both potential outcomes. Let's say your bet on Dustin Johnson to win The Masters is looking like it's going to come in after three days of the four-day tournament, you may want to quit while you're ahead and take your winnings, rather than take any further risk by letting your bet ride out for the tense final day.
Different Golf Terrains
No one golf course is made the same, but the vast majority of them fall under three different categories of course. They are:
Links courses
These are the most traditional courses, and are usually based along a coastline, which can often bring high winds. As a result, these courses have large bunkers, so you may want to avoid betting on players who notoriously struggle with iron stroke play and tricky bunker shots.
Parkland
These are slightly more manufactured versions of links courses, and are usually further inland. Picturesque greens and trees usually characterise the courses, and their favourable freeways mean there is slightly more margin for error for players who can sometimes hit a wayward tee shot.
Desert
Following the manmade theme once more, these courses are, as the name suggests, found in hot, dry climates where natural grass isn't found for miles. The courses are often found in places such as the Middle East, where golf has become extremely popular, and the huge wealth in the country has led to a rapid rise in new courses and tournaments, with lucrative prize pools that attract the world's best players.
Each-Way Betting on Golf
Golf tournaments are some of the most competitive sporting events in the world, so it would be wise to invest some of your betting bankroll into each-way bets. With more than 100 competitors usually taking part in any given event, the likelihood of picking out a winner can often be a tricky business, so hedging your bet offers you a bit of protection, whilst also retaining a decent level of value to your bet.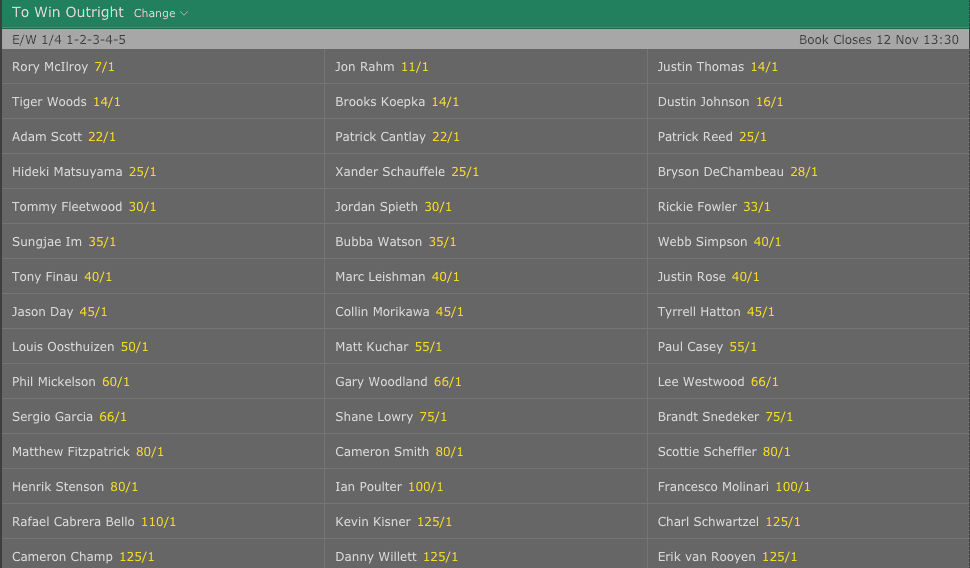 The above screenshot is the betting roster for the Masters event in 2020. Bare in mind that this screenshot only accounts for HALF of the field, so even a player as successful as Rory McIlroy is priced up at an appealing 7/1. Keep in mind that we've made all the calculations with the help of the free Hedge calculator.
Now, if you combine your knowledge of player form and course history, you may well be able to pick out a decent bet amongst the scores of players who are priced at above 25/1. For instance, we have Jordan Spieth available at 30/1. Now, Spieth is one of the best players in the world, but is ranked as the 14th-most likely player to put on the green jacket at the end. Without much knowledge, one would suspect that this represents a decent value bet.
An each-way bet splits your bet in half. Let's say we put on a £100 each-way bet on Jordan Spieth to win The Masters at 30/1. We can see from the top left-hand side of the screenshot that the E/W odds are paying out at 1/4 (one quarter if you're not great with fractions) of the odds if Spieth finishes in the top five by Sunday evening.
Now, £50 of your bet is placed on Spieth to win the event at 30/1, and the other £50 is placed on him to finish in the top 5. If Spieth wins the event, you are paid out on the £50 bet on him to win the event (£1500 profit) PLUS the £50 you placed on him to finish in the top five (a quarter of 30/1 = 7.5/1 AKA 15/2 equalling £375 profit) making a total return of £1875, plus your initial £100 stake.
If Spieth was to finish either 2nd, 3rd, 4th or 5th, you would only win on the placing side of the bet, which would give you the £375, but you would of course lose the £50 "Win" portion of the bet, bringing you a total of £325 profit. But you can see just from this one example that a high-profile player can still offer great value in the each way market, which is something you can't say for almost every other sport on the betting market.
Accumulator Betting on Golf
While golf lends itself nicely to each-way betting, the same can't quite be said for accumulator betting in its traditional format. Most accumulators in other sports such as football and horse racing feature several legs that rely on a team or horse winning their respective race, but in a golf tournament that features tonnes of players at the same event, it's hard to put together an accumulator that would see all your players competing in different events at the same time, meaning you could be waiting weeks for your acca to come in. Not fun…
However, one way in which the bookmakers are trying to work their way around this is by offering in-tournament accumulators that feature players taking part in the same event. Taking The Masters as an example once more, an in-tournament bet could be: Jordan Spieth to win, Justin Rose to finish in the Top 10 players, and over 10.5 tournament eagles. The returns on that particular bet would be astronomical, but they are a low-cost and fun way to enjoy the televised major events.
10 Golden Rules to Follow When Betting on Golf
Before we head into the clubhouse for a couple of drinks, let's take a look at our ten golden rules for betting on golf. These tips are vital for avoiding fundamental errors that can lead to needless hemorrhaging of your bankroll.
1) Study the course – All golf courses fall into three different types: Links, parkland and desert. These courses all have their different quirks, which can either complement or go against a player's preferred style. Each individual course, meanwhile, has its own number of bunkers, and varying lengths of hole, amongst other various factors. When selecting a player for a win/each-way bet, make sure they are playing at a course that ties in well with their core strengths. A course that consists of various short-to-medium length holes will complement a player that is well-known for accurate stroke play, while the mean, longer courses play into the hands of power players who can put themselves in strong positions via huge tee drives.
2) Tournament history – This can be particularly useful when picking out a winner, as well as a winning nationality at an event. Even just a brief look at the previous winners of a tournament can go a long way to influencing your decision ahead of the upcoming event. You may notice that the last x Masters majors have been won by left-handers. Could that play into the hands of a Phil Mickleson or a Bubba Watson? Tournament history and player form are simple fundamental research techniques that anybody looking to be successful at betting on golf should be doing daily. Better yet, sign up to one or two of the many golfing blogs and news sites out there that will put together all the information for you.
3) Player form – In the build-up to the majors it's imperative that you study the form of the players heading into the tournament. Momentum and form are huge factors when deciphering who is going to perform well on any given week, and the difference between a player who is striking the ball cleanly and somebody who can't find their rhythm is truly huge. Study stats such as cut percentage to see if players have been performing consistently enough to reach the sharp end of recent tournaments. This stat should help you pick out decent each-way bets in tournaments that boast large fields.
4) Weather conditions – Weather will of course influence all outdoor sporting events, and the effects of weather can influence golf in both small and large ways. For example, a ball won't travel as far in cooler conditions, mainly due to the difficulty a ball has travelling through the more dense colder air. This kind of condition will affect the power players who look to impose themselves with big drives. Wind, meanwhile, can also play a huge role in causing erratic ball movements that can destroy a bet in a single stroke. Check the local weather reports for the day and tread carefully.
5) Betting with the best odds – Now, it can be easy to get stuck in your habits and do all of your betting in one place. Not only is this a lazy approach to sports betting, it also means you are potentially missing out on the best odds and promotions across the market. Make sure you're using Betting.com' odds comparison tool to shop around for the best prices for your punts.
6) Patience is a virtue – One of the biggest temptations when it comes to betting on golf is to cash out your bet too early. If you are waiting up to four days for a bet to settle, it can be appealing to take the money and run when a cash out option is presented to you on the back of a promising opening day's play from your pick. While these cash outs do give bettors the chance to secure profit, they are a great way for bookmakers to claw back their potential losses, so be prepared to stick to your guns and don't be afraid to play the long game for those higher returns.
7) Track your bets – This is especially important if you are just making your first steps into betting on golf. As you're starting out, you're sure to be experimenting with various different markets and bets, to see which ones you get the best return on. Bettors tend to have great memories of what markets they win on, but can often be more forgetful when it comes to picking out the patterns in their losing bets. Tracking your bets will ensure you identify your mistakes as early as possible and allow you to eradicate them before they cause long-term bankroll damage.
8) Set your own odds and sniff out the value – This takes us back to a Betting.com favourite that is value betting, which is where a punter will put together their own odds, based off their own calculations and hunches, and compare those odds with those provided by the bookmaker. If there is a large disparity between the odds you have listed and the bookie's odds, then you have what you would call a value bet. This strategy can often unearth some hidden gems that can go on and secure some huge profits.
9) Tournament winner bets for show, each-way bets for dough – If you're entering the golf betting world via football or tennis betting, for example, the most natural bets to dip into will probably be the Tournament Winner markets, as they're the easiest to understand and often carry the highest potential returns. While these bets provide the biggest rush when they come in, more often than not, they won't, and these bets should not form the foundation of your overall golf betting strategy. Instead, try to use your knowledge to pick out the much safer each-way and top ten bets. Those markets are generally much less erratic, and it means you will benefit from backing consistent performers that are in form. A golfer could go months without winning a tournament but be in great playing form, and the best way to maximize your returns from that purple patch is to bet smarter.
10) Pictures tell a tale – Try to make sure you are only betting on tournaments that you can watch. Not only is it more entertaining to be able to watch your bet unfold, you can pick up changes in weather, momentum and other factors that can sometimes seem insignificant, but if leveraged correctly, can be capitalised on in the form of profitable in-play bets. If the wind strength picks up, you may be tempted to cash in a bet to avoid sudden gusts blowing away your chances, or a player could be choking on the back nine as he/she closes on victory. If that's the case, you have the perfect chance to lay the player on a betting exchange and reap some lucrative rewards.
Summary
The prestige of golf means that it will always sit amongst the top table of sports to bet on, and the amount of money that continues to be invested into the game means that the sport is only going to improve as a spectacle, which ultimately will lead to more exciting markets in the future. The emergence of the women's game, and the general tip-top shape of the men's tours makes golf a great avenue for bettors who are looking for a different sport to invest in.