In contrast to the majority of other sports where there is an off-season of at least two months, tennis is an almost year-long schedule, with four grand slams sandwiched between dozens of tournaments throughout the calendar year. Players also play a hell of a lot more throughout the year than, say, a football team, or a boxer. Not only does this give you a greater and more accurate data set from which to judge form, you are also presented with more opportunities to cash in.
In addition to this, the final result of a tennis match tends to be limited to just a small handful of factors: These are player ability, player performance, and adaptability to playing conditions. If you compare this to a team sport such as football, there is a much greater variance in the sort of events that can go a long way to influencing the result, and in many cases, ultimately going against you when the referee blows for full time.
That very referee could also make a game-changing mistake – something which is far less likely to happen in the tennis arena due to the volume of line judges and superior use of technology to eradicate human error. Virtual Assistant Referee (VAR) is a relatively new phenomenon in football, and its limited availability means games outside of the top five European leagues often go without top-tier technology, and even the games that do have the added perk of VAR still fall foul to the technology due to the inefficiencies and teething problems during the first period of testing. Technology in tennis has been tried and testing for well over a decade, and match-deciding mistakes are virtually non-existent.
Another thing to think about when betting on tennis is injuries. An injury is much more likely to happen during the course of a football match featuring 22 players than in a two-person tennis match. Bookmakers also offer an element of protection against retirements because of injury, and dependent on the bookie you bet with, you can even salvage a potential loss if you'd player falls to an injury mid-match (we'll explain this in a bit more detail later on).
A final element that makes betting on tennis particularly attractive is that the final outcome is a binary result. Team sports can typically end in a draw, which is usually great news for the bookie, but bad news for punters who generally prefer to back outright winners rather than what can sometimes be perceived as the more passive draw wager. While the lack of draws in tennis is often reflected in worse value for the favourites to win, it does also offer greater value to the underdog, and there are various other ways in which we can work around the obstacle of a short-priced favourite. In this article, we will take a look at some of those techniques, including in-play betting, accumulator bets, and other alternative markets which dive into granular events of a match whilst offering more value to the punter.
Now that we've got the introductions out the way, let's take a deeper look at tennis odds and how you can leverage them to secure some juicy profits…
Tennis Odds & Markets
One thing I will tell all punters before they start betting on tennis is that it can sometimes be a hard slog when it comes to finding the right bet. As discussed in the previous section, the lack of a possible draw is a positive in that it offers great value to betting on the underdog, but it also means that a big favourite is an even worse value.
How do we overcome this? Well, I won't be the first tennis blogger to advise you not to bet on the likes of Federer and Djokovic in the first round of a grand slam. The bookies have your number on that one – you'd be lucky to find anything better than odds of 1/100 for that sort of bet, so you do need to be more creative. A great way to chip away at odds like this is to dip into the handicap betting markets. Let's kick off with the "Total Games" market:

Here, we have a matchup between Reilly Opelka and Milos Raonic in an ATP event in Delray Beach, Florida. For what it's worth, it looks like a relatively close match up, but Raonic is still comfortably favourite at 1/2. Those odds are by no means anything to get excited about – with a £10 bet on the Raonic win bringing home returns of £15, but if you're particularly confident of him getting the win, then the handicap markets really are the way to go. If you're confident enough to place a bet on Raonic in the first place, the chances are you have some substantial data to back up your hunch, so why not push the boat out a little and go for him to win at least two games more than his opponent? The only pitfall of this bet would be if Raonic were to win two close sets, but lost convincingly in the third, but in this particular match we have two big servers who are unlikely to lose their service games too often, so just one break of serve could make all the difference here.
Another market where you can increase your potential returns if you have a particular hunch is in the "Set Betting" market. A bet on Raonic to win by two sets to zero turns your £10 bet into £22, which is already a 46% increase on your potential returns than if you were to bet on him to win outright.
Spread betting on tennis is another way for you to increase profit. Let's take a look at a couple of examples, but this time with a slightly more cut-and-dry favourite.

Here we have a match up between Alexander Bublik and Stefanos Tsitsipas from an ATP tour event in Marseilles. At 1/5 we have a clear favourite in Tsitsipas, but again, the value is pretty poor. The outright odds suggest the Greek player should win pretty convincingly, so we can hope to use that to our advantage by assuming that he will win the match in straight sets (2-0). How can we make money from that? Well, it goes without saying that there are no guarantees when betting on tennis, but if the odds suggest a straight sets win is the most likely outcome, we can safely assume that Tsitsipas will win the first set.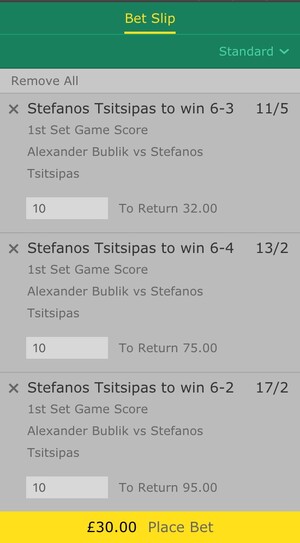 You can see that a score of 6-3 is by far and away from the favourite here at odds of 11/5. While it would be of greater potential returns if you were to bet on Tsitsipas to win the first set 6-3 rather than backing him to win the match outright, it's a pretty poor bet in regards to its genuine value. What I would recommend doing here is spreading your bets across three different set scores to give you an extra layer of protection. You would need to make your money back (plus a little extra) if 6-3 was to be the set score, but you would get larger returns if the score was instead 6-2 or 6-4.
It's important to bear in mind that 6-3 and 6-4 are the most common set scores in tennis, and how that score manifests itself can come down to something as simple as who serves first in the match. Allow me to quickly explain.
Let's take a look at the flow of games if Tsitsipas is serving first, wins his service game, and then breaks Bublik.
Tsistsipas 1-0 Bublik Tsitsipas 2-0 Bublik
At this point, Tsitsipas is next to serve and has the chance to go 3-0 up. If the two players were to continue trading games, the flow of games would look like this:
Tsistsipas 3-0 Bublik Tsitsipas 3-1 Bublik Tsitsipas 4-1 Bublik Tsitsipas 4-2 Bublik Tsitsipas 5-2 Bublik Tsitsipas 5-3 Bublik Tsitsipas 6-3 Bublik
Contrast this with if Bublik was to serve first. If he loses his first service game, and Tsitipas wins his, the score would still be 2-0, but more importantly, Bublik would be next to serve. What does this mean? Well, it's traditionally much more difficult to break serve than to hold it, and with Tsitsipas already having the break, he is perhaps more likely to subconsciously take his foot off the gas when
facing the Bublik serve, in favour of reserving energy for winning the remainder of his service games to close out the set.
Tsistsipas 1-0 Bublik Tsitsipas 2-0 Bublik Tsitsipas 2-1 Bublik Tsitsipas 3-1 Bublik Tsitsipas 3-2 Bublik Tsitsipas 4-2 Bublik Tsitsipas 4-3 Bublik Tsitsipas 5-3 Bublik Tsitsipas 5-4 Bublik Tsitsipas 6-4 Bublik
This leads nicely to a golden rule when betting on tennis, and that is to keep an eye on the coin toss to see who is serving first. If Tsitisipas is serving first, the likelihood of him winning the set 6-3 is increased because he only needs to break his opponent's serve once to achieve that scoreline, but he would have to do so twice if he wanted to win 6-3 after serving second. Keep your eyes peeled further down the blog for some more rules to bear in mind before you begin your betting on tennis journey.
Recommended Bookmakers For Tennis Betting
We have a wholehearted devotion to our customers, and we want to share with them only reliable, valuable, and useful tennis betting offers. That's why we made efforts to check which are the best websites for your tennis bets. Besides, we placed our own various bets and used all of the features provided by the bookmakers. Based on our personal experience, we would like to recommend those three bookmakers as top places for tennis betting.
Big Tournaments for Betting on Tennis
In terms of the most publicised and easily accessible tennis tournaments, your best bet is to have a wager on the grand slams. These are four tennis tournaments spread out between January & September, and are where the biggest and the best come to town. Let's take a quick look at these in more detail:
The Australian Open
The opening grand slam of the year is hosted in Melbourne in late January and played on hard courts. Players have to contend with extreme levels of heat and humidity, and it isn't uncommon to see players pull out of matches with heat exhaustion, so the retirement rule can often come into play during this tournament.
The French Open
Also known locally as "Roland Garros", this is a two-week tournament in Paris and played on clay courts. As we talked about earlier, keep an eye out for the likes of Rafael Nadal and other Spanish/Latin American players that tend to favour this surface.
Wimbledon
Probably the most famous tennis tournament in the world, and is played on grass courts over a two-week period in the British summer. Short, fast points, and games that go to serve are usually the way to go here, so do your research and find out who the big-servers are going into this one.
The US Open
Played over August and September in New York on hard courts, and is the last huge tournament of the year.
Now, you may be wondering why there are two hard court grand slams in the space of six months, but the tournaments do, in fact, have plenty of differences. The climate in the US and Australia at the time of the slams contrasts greatly, and this has a huge difference on the behavior of the tennis balls in both the way they bounce off the court and how they react to spin. The courts are also made of slightly different materials, but I won't bore you too much with that.
The slams are certainly the tournaments to keep an eye out for if you are looking for special promotions from bookmakers, but you will probably make the bulk of your profit on the ATP and WTA tour events that run between January and November. Don't worry too much about what the initials stand for, but the ATP tour is the men's events, with the female players taking part in the WTA tournaments.
Underneath that, you have "Challenger Tour" events for lower-level professional players. I wouldn't get bogged down in Challenge Tour stuff at this point, such as the depth of ATP and WTA events, but you can sometimes get ATP regulars taking part in the minor events as they look to come back from a long injury lay-off, so opportunities can be found there too.
High and Low Season
Professional tennis has one of the longest seasons when compared to other sporting calendars, with tournaments running from the Australian Open build-up in January, all the way through to the ATP and WTA finals events in London in November.
The best periods to be betting on tennis are probably the four-week windows in the build-up to grand slams and their fortnight duration. The two-week period before a grand slam is a final chance for players to fine tune their play ahead of the tournament, meaning the vast majority of ATP and WTA tour players will be at an event to complete their preparations. At the slam itself, the top 100-ranked players from both tours will be in attendance, along with qualifiers and lucky losers, so you have a huge pool of players and matches to bet on.
The grass court season is a particularly short one, running from the end of the French Open in May, until the conclusion of Wimbledon in mid-July. The hectic five-week period sees the entire tour transition from slow-playing clay courts to the quicker grass, meaning players need to undergo an intensive period of training and playing to ensure they are ready for Wimbledon.
Particularly quiet parts of the tennis season come towards the end of the calendar year. The ATP and WTA finals in mid-November are tournaments that are exclusive to the highest-preforming players on the circuit, meaning the majority of the tour is left to put their feet up and relax at the end of a busy year. There is still plenty of disparity between players in the season-ending showcase events, however, so don't go into these tournaments expecting a huge deal of value. In fact, you may want to spend these final few weeks of the year getting your Christmas shopping done early for a change.
Indoor and Outdoor Tennis
We've touched on how important is to consider the conditions when betting on tennis, and that is even more vital when it's indoor season. Most of the tennis calendar is played outdoors, which leaves matches prone to various weather conditions such as the heat and brightness of the sun, as well as wind making life difficult for players to control their shots. These elements are eliminated when a match is indoor, so bare that particular detail in mind if you are betting on a match which features a big server, as these guys have a huge advantage on indoor courts that tend to be inadvertently conditioned to their advantage.
In terms of court speed, hard courts play well for players who favour short points, so perhaps look towards the players that are quick at moving around the court rather than the Rafael Nadals of this world who look to grind down opponents with power and spin on the slow clay courts.
To summarise, try to favour the more aggressive, proactive players when betting on indoor courts where points are short, and also be prepared to bet on long sets with more than 10.5 games, because it is notoriously difficult to break serve indoors, which can often lead to tie breaks.
Accumulator Bets
Another way in which punters can work their way around the often-tiny odds when betting on a favourite is to put together an accumulator bet. This is particularly fun during grand slams when it is easy to watch all the matches in one day.
Now, let's use our previous example of Stefanos Tsitsipas at odds of 1/5 for his match against Alexander Bublik (which he won in straight sets, incase you were wondering). In its own right, the bet represents pretty poor value, but if we were to combine this bet with a handful of similar bets, it quickly starts to become a more much attractive proposition.
An accumulator bet on four players to win, at respective odds of 1/5 (1.20), 1/4 (1.25), 1/3 (1.33) and 1/2 (1.5) suddenly gives you a solid-looking 2/1 accumulator. Apply a small wedge of bankroll to that and you could make a £100 profit from a £50 stake. Of course, with increased bets comes increased risk, but providing you have carried out your research and are betting on players in good form and on their favoured surfaces then you will be in a great position.
Find out more about the ins and outs of accumulator betting here
In-Play Betting on Tennis
There are plenty of opportunities to top up your winnings when betting on the in-play markets in tennis. Odds can shift quickly between sets, games and points, so you need to be able to spot chances to cash in quickly, so perhaps invest in a responsive mouse so you can get your bets placed in time!
A particular instance in which we would recommend you placing in-play bets would be on individual points where the underdog is playing against a strong favourite, who is also a solid returner of the ball. Despite being the less-fancied player, the odds are still usually well stacked in favour of the server as the first shot allows them to set the direction and tempo of the point, but on the second serve, it becomeo much more of an even contest, due to the significant reduction in service speed. The receiver also brings him or herself further inside the court so they can get to the ball quicker and dictate the point. Great returners like Novak Djokovic and Andy Murray are two particular players to look out for when using this kind of strategy. There is obviously an element of guesswork in regards to predicting when an opponent may drop a point on their serve, but as you watch more tennis you will develop a sense of when pressure is building on a serve, which will make the decision-making process a lot easier.
You can also apply this strategy to betting on the winner of a game. If the favourite is going to win a set then they are going to have to break the opponent's serve at some point (unless we go to a tie-break, but again, make sure you're choosing your bets wisely). For this particular strategy I would recommend doing so on a match you are watching live, so you can make adjustments for player momentum. If a server has been looking unconvincing in their previous games, you are much more likely to reap the rewards of betting on a break of serve than if the two players were trading games comfortably.
Generally, in-play betting on tennis is most useful if you have access to a stream of the match, which most bookmakers tend to offer these days. If you are watching the contest you are privy to the ever-changing conditions within a match, such as player condition, weather (wind strength and sunlight), and momentum. Using the example of weather, both the wind and the sun can make a huge difference to the effectiveness of a serve, whilst also making life difficult for players who like to slow points down with shots that stay in the air (think of players that like to utilise the slice shot), so keep an eye on local weather reports and any wildly waving flags courtside!
Overall, the markets on offer for in-play betting on tennis are vast to say the least. Most of the pre match markets are available, so if you are unsure about what bets to place before the match, don't be afraid to keep your powder dry and wait for the chance to strike in-play.
Golden Rules of Betting on Tennis
To finish off, check out our ten commandments for anybody who is interested in betting on tennis.
1) Multiple betting accounts – Make sure you are shopping around for the best value on the market. You have already seen in this guide that you can quickly enhance your returns just by altering the markets you're betting on, and that's just when you are sticking to the one bookmaker, so make sure you have all bases covered and use the Betting.com Odds Comparison tools to squeeze out every last penny of profit. This is also particularly important when it comes to in-play tennis betting when the volume of bets can quickly multiply, and price differences become more important
Click here to find out more about why having multiple bookmaker accounts is essential for your betting success.
2) Pick a Watchlist – Put together a hit list of 20 players that you want to keep an eye on over the course of the season, and keep your own log of how they perform. Don't worry about the statistical stuff like first serve % or the physical result of matches, but see if you can identify your own trends. Do they perform better at the start of the year and tail off towards the end of the season? Perhaps they are particularly strong against left-handers, or it could even be something as small as how they cope with extreme heat. With a 20-player logbook you're going to have hundreds of opportunities to put together your own unique data set which will become extremely useful when betting on tennis in the future.
3) Track your performance – If you aren't already, your foray into the world of tennis betting is a great excuse for you to start seriously tracking your performance, and you can do that with the FREE Betting.com performance tracker. With a plethora of advanced, automated features and a slick dashboard, having all your betting activity securely logged on the tracker will make your betting life a hell of a lot easier. It will also aid your decision-making and your bankroll management, which will combine to helping increase your betting profit.
Want to find out more about the Betting.com tracker? Import historic spreadsheets, as well as your betting backlog from the likes of Betfair and Smarkets, all in one place. Click here to find out more.
4) Specialise in one market before branching out – We have briefly touched on spread betting, but that is just one of many markets which you can take advantage of if you have an explicit understanding of both the market and the players. There are also over/under markets, in-play tennis betting, and even markets on who is going to win the next point. Specialising in just one of these sectors can be extremely lucrative. If you are able to spot particular triggers in a match that apply to your chosen specialism, then you in with a much better chance of cashing in.
5) Sharing is caring – There are an array of betting forums out there, and anybody who is betting on tennis will have their watch lists that they use to gain an extra percentage point of edge over the bookmakers, so why not share your tips with others, and look to build up your bank of knowledge on all the main players on the tour. Eventually, you end up with a decent base knowledge of at least 100 players on the tour, which adds up to daily opportunities to make money.
6) Head-to-heads – This remains one of the most basic stats when it comes to betting on tennis, but it continues to be ignored. Tennis is very similar to boxing in that each match is a clash of different styles, and the winner of the match is the player who can adapt their game to the style of their opponent. I liken this to the golden age of heavyweight boxing in the 1970s when all the top names were active and beating each other. Sometimes a player just has that knack of finding a way to beat their opponent, and the loser just can't figure out a way to get around them.
7) Form – It should be a given, but you would be surprised at how many people don't even consider form before placing a bet, simply because they see a name they recognize. It's slightly more difficult to analyse form in tennis because there is less of a defined "league table" system where you can track wins and losses, so you have to do a bit of the extra groundwork yourself, but it's worth it. On an even more granular basis you can apply form to in-play tennis betting situations, where you can make a profit by capitalizing on a drop-in form during a match.
8) Check the conditions – Before placing any pre match tennis bets it is imperative that you analyse the conditions of the match before making any decisions. Is the match being played indoor or outdoor? What surface is the match being played on? What is the weather forecast? These are just three questions you need to think about, as each one has its own impact on the result. You wouldn't place a bet on a football match without knowing about injuries and suspensions, so make sure you take more than just player form into account.
9) Only bet when there is value – This means you need to put your bookmaking hat on and start putting together your own odds and probabilities so that you can identify which bets carry the most value. The easiest market for you to do this when betting on tennis is in the "Match Result" markets where you are simply picking a winner for the match. Take a look at the Betting.com blog about compiling your own odds, and apply the practices used in that blog to help pick out the bets which carry the greatest potential earnings.
10) Retirement rules between different bookmakers – Before you start betting on tennis, make sure you get your head around the handful of variations between different bookmakers surrounding the rules on retirements. Most of the big bookmakers fall under two different rules. The first rule says all bets are valid if at least one set of the match is completed, meaning you could potentially be stung if you were to place a bet on Roger Federer, for him to then go one set ahead and immediately retire due to injury. The other category of bookmakers makes betting on tennis slightly safer in our eyes, as they only pay out on bets that are completed without injury, meaning any retirements result in bets being voided. Yes, it would be frustrating if your bet was well on the way to winning, only for your winnings to be snatched away by an injury, but these things tend to balance themselves out.
Commitment is Key
In order to win when betting on tennis you need to make a long-term commitment to following the sport. I'd liken it to horse racing in that there is such a depth of competitors and events that means it's almost impossible for you to just dip in and out of it as an onlooker and expect to make any money over the long-term. Invest some time in watching a selection of players over the course of a few months to get an idea of how they perform on different surfaces and against different styles.
So that rounds up the Betting.com guide to betting on tennis. Like all forms of sports betting there is a great deal of trial and error, so don't be deterred by bumps in the betting road, and enjoy the ride!
Ready…play.