Horse racing today stands second only to football as the most bet on sport in the United Kingdom, as well as boasting huge followings in the USA, Australia, South Africa and beyond.
Where there is a sport, there is money to be made, and horse racing really is no different. While the vast majority of major sports enjoy an off-season when there is very little action, horse racing enjoys a near endless calendar of competition, making it a hugely attractive betting proposition for professionals and amateurs alike.
In Betting.com' guide to betting on horses we will be taking a deep dive into the different horse racing betting markets, terrains and events that combine to make betting on horses such a great spectacle, and make sure to stick around for our ten golden rules at the end of the guide.
Recommended Horse Racing Bookmakers
As you know, we are very dedicated to providing you with honest, transparent and useful information. This is why we created a list of bookmakers that we tested and verified, and they are suitable for horse racing betting. If you decide to try some of those bookmakers below, you will find a wide variety of horse racing betting markets, high odds, bonuses, and others.
Betting on Horses for Beginners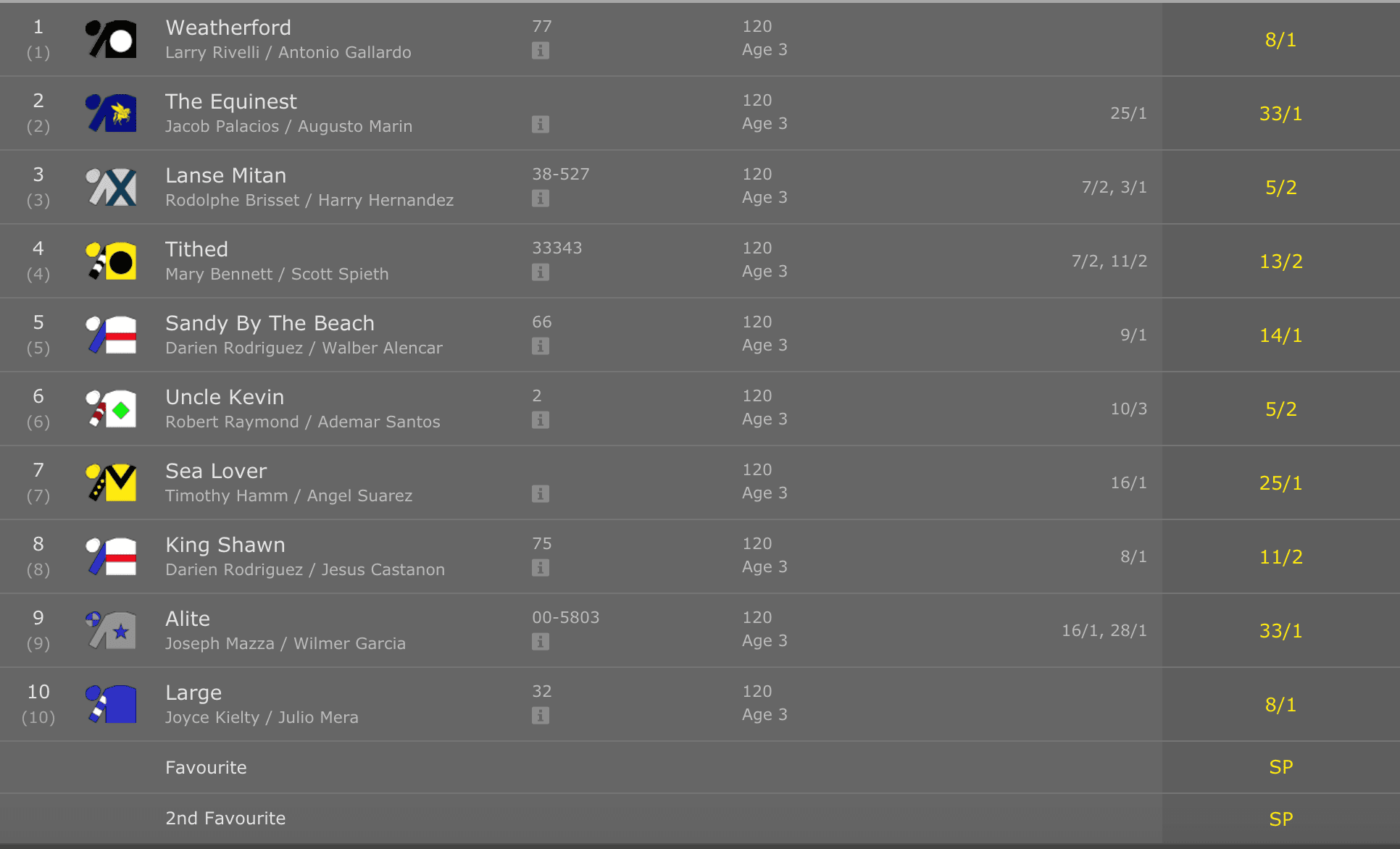 Let's kick things off with a look at what you would expect to find when placing your first bet on a horse race. Here, we have a ten-horse race, and the odds for each horse are displayed on the far right of the image in yellow text. As you can see, there is quite a large range in the odds, from the favourite at 5/2, right up to a 33/1 outsider.
We will take a look at more markets shortly, but the odds on the end are simply for the horse to win the race. Take your eyes a little over to the left, and you will see some more odds in faint, white text. These account for odds that the horse has been priced up as in the build-up to the race, and can give you an indication as to how well the horse is fancied ahead of a race. Take the example of Aite (number 9 in the list) – the odds on the horse have drifted from 16/1 to 28/1, and again even further to 33/1, which suggests that money isn't being placed on it from other punters, so we should probably give it a wide berth. Lanse Mitan, on the other hand, has seen its price come in from 7/2 to 5/2, which may not seem like a huge jump, but is, in fact, a fairly significant market move that suggests enough money is being placed on the horse to warrant the bookmaker lowering its odds.
Even further along the display is the form of the horse in its previous races. This information can be useful, but it only gives you a small snapshot of the horse's performance. You will need to do a bit more research into the caliber of the previous races and the competitors in those outings, to ensure that those decent showings came in similar conditions to the race you're about to wager on. Take the example of Lane Mitan again – his form is 38-527, which suggests that it hasn't pulled up any trees in its previous races, but its price suggests that those races were against stronger opponents.
The first bet you can place on this page is in the regular "Race Winner" market, where you are simply placing a bet on who will cross the finishing line first. Clicking on the odds written in yellow in this example will add the horse to your bet slip, and you're good to go.
You will see below that you also have the option to place an SP bet on either the favourite or the second favourite. As discussed earlier, the odds of each horse are changing regularly in the build-up to the race, but if you simply wish to back the favourite, regardless of which horse that is and what the price is, you can simply do this by choosing the SP favourite, which will place your stake on the favourite as of when the race starts, taking the price at the time they begin. We call this the "Starting Price."
Rule 4 Deductions When Betting on Horses
A minor rule to be aware of when betting on horses is the potential for Rule 4 deductions. These occur in the event of one or more horses withdrawing from a race, after you have placed a bet. In theory, if you have placed a bet on a horse in a 10-horse race, and two horses withdraw, then theoretically your bet has a much better chance of winning, as it has two fewer competitors to beat.
The bookmakers' workaround for this is to make minor adjustments to your potential winnings if your horse wins, or in the case of each way bets, places. These deductions largely depend on the price of the horses that have withdrawn, along with the amount of horses that don't make it to the starting post. Don't get too bogged down in this, but if you notice your winnings are slightly less than what you expected them to be, chances are you will have been subjected to some Rule 4 deductions.
Each Way Betting on Horses
While there is the obvious option to bet on a horse to win a race, you may wish to place a bet on something slightly more conservative. One way to do that is to place an each-way bet.
An example of when you would place an each-way bet would be if you had a horse with odds of at least 5/1 that you fancied to do well, but wanted to hedge your bets slightly and put some money on them finishing amongst the top few horses.
An each-way bet is split into two halves. Let's take a £10 each-way wager on Sea Lover in the race we have taken a screenshot of for our "Win" bet example. £5 of the bet would be placed on Sea Lover to win at odds of 25/1, while the other half is placed on the horse to finish in the top three/four/five, depending on the amount of horses in the race. In most cases you will be wagering on a race that has between eight and eleven runners, so each way bets will pay for up to three places, so if Sea Lover was to finish third, then you would be paid out at a fraction of the win odds, depending on the bookie, but usually around a quarter of the odds.
However, if Sea Lover defied the odds and won the race, you would be paid out at the full 25/1 on the "Win' side of the bet (£125 + £5 stake) plus the quarter of the odds for the horse to finish inside the top three (£31.25 + £5), bringing you a final profit of £156.25.
We wouldn't recommend an each-way betting strategy if you were considering betting on a favourite with odds of around 3/1, as the consolation odds on the horse failing to win but securing a place mean that the overall bet would constitute poor value, so try to reserve each-way bets for horses that are slightly less favoured.
One final thing to keep an eye on in regards to each way betting on horses is the edge between the punter and the bookmaker. Late withdrawals from races that reduces the number of horses in a field could mean that a bookmaker will only pay for the top two horses in a race, so try not to place your bet too far in advance.
Keep in mind that, on our Odds Comparison, you can find and compare the best bookmakers' odds and markets for all UK and Ireland races, as well as many international horse races.
In-Play Betting on Horses
As with 99% of sporting events, there is now the possibility to bet in play, and bettors are able to take advantage of rapidly changing odds to secure huge wins.
In this instance, it is imperative that you have an explicit knowledge of the horses and how they behave in a race. Perhaps they are slow starters, before improving in the final couple of furlongs, or they could, in fact, be the complete opposite, where they could be strong starters, before running out of steam towards the finish. If you are aware of a horse that starts off slowly before making it a late dart to win, then you can take advantage of the fluctuation in odds to bet on the horse when it is at the back of the field, and at bigger odds.
It's also important to make sure you do some research on streaming providers that give you the most up-to-date coverage of the race as it happens. Even a stream that is a few seconds slower than another can paint a completely different picture to what you are actually betting on, so tread carefully.
Graded Horse Racing Betting
You will notice when you make your first forays into horse racing betting that each race is given a grade, dependent on various factors, but most notably the quality of the horses involved, as well as their handicap ratings.
Handicap ratings are a particularly useful piece of information to look out for if you are a relative novice to horse racing betting, as it gives you an official snapshot into how the horse is rated by the British Horseracing Authority. This rating is usually available on all race cards, and the higher the rating, the higher the horse is regarded among the official governing body.
Depending on its handicap rating, a horse is placed within a class, or grade, that ensures that it is only competing against horses of a similar quality. While this makes sure that there is a relatively level playing field among horses, it is not quite an exact science, so you should always use this information in conjunction with your own research to help pick out a potential weak spot in the ratings.
In addition, while race organizers will always endeavor to place horses of the same rating together, it isn't too uncommon to see superior horses coming up against weaker opposition, so you can use these opportunities to cash in when they come around.
Flats v Jumps: Which is Best for Betting on Horses
Horse racing is typically played out on two types of courses, flat tracks or jump courses. Flat racing is typically played over a shorter distance with younger, quicker horses and lighter jockeys. Put it this way, if Usain Bolt was a horse, he wouldn't be jumping over fences.
Jump races are usually at least 2 miles long, whereas flat races of that length are very much a rarity. Because of the great disparity in race length, competitors in jump races are not required to begin in starting blocks alongside each other, as there is a next-to-no advantage in beginning the race a few yards ahead of another horse for a long distance race.
Uneasy Ground: Top Terrains for Betting on Horses
Let's take a brief look at the different terrains you would expect to see horse racing to take place on:
Turf – This is what you will expect to find at horse racing courses across the UK and Western Europe, and as a spectator it is probably the best, most unpredictable surface for horse racing. However, you will need to ensure you have read up on local weather reports and other inside info to ensure you know the state of the surface, which we will talk about in our Golden Rules at the end of the guide.
Synthetic Turf – The use of synthetic grass has allowed for flat horse racing to continue throughout the year, and also ensures that there is a much more level playing field for competitors, as the state of the ground is not subject to ongoing weather conditions, like it would be if horses were running on real turf that has been battered by rain or dried out by the sun.
Dirt/Sand – You are unlikely to see dirt tracks unless you are betting on horse racing in the USA or the United Arab Emirates, where hotter climates make it more difficult to grow grass. A benefit of dirt tracks is that it makes races much faster, as horses take less of an impact on their legs from jump landings.
On and Off-Season for Betting on Horses
Off season? What off season? While flat and jump seasons don't individually last the entire year, there is also very little overlap between the two, meaning you have near uninterrupted racing in the UK. Looking slightly further afield you have racing in Ireland that occurs all-year round, and such is the breadth of horse racing as a global spectacle, you are never short of racing to bet on.
As far as high season is concerned, we would probably plump for the four-week spell over March and April that sees in the festivals at Cheltenham and Aintree, which feature the prestigious Gold Cup and Grand National races respectively. Not only are these two of the most popular horse racing festivals to bet on, but they are also a hotbed for great promotions from bookmakers who are looking to entice you to win with boosted odds, enhanced accumulators and money-back specials, so make sure you're saving a healthy portion of your bankroll for the beginning of spring. Don't forget that, we in Betting.com strive to publish all bookmakers' bonuses, enhanced odds, or special promotions as soon as they are available, so just keep an eye on our Special offers page, it is worth it.
Biggest Events for Betting on Horses
Grand National
Quite comfortably the most betted on sporting event in the UK calendar, whilst also taking the title of the most valuable jump race in Europe. This 4-mile race takes place every April at Aintree Racecourse in Liverpool, and is a popular event for novices who limit their betting to just the annual flutter.
Cheltenham Festival
While the Grand National is the race with the most glamour, the Cheltenham Festival is a four-day event that is the biggest festival of its kind in the UK. This takes place from Tuesday-Friday in early to mid-March, with the final day hosting the famous Cheltenham Gold Cup.
Kentucky Derby
If you asked your regular Joe on the street to name a horse race that wasn't the Grand National or the Gold Cup, the chances are they would probably name this one. The Kentucky Derby is the most prestigious race in the United States, and takes place traditionally on the first Saturday in Louisville.
Prix de l'Arc de Triomphe
The most high-profile horse race in France, taking place on flat courses on the first Sunday in October.
Types of Accumulators for Betting on Horses
The most fun way to enjoy betting on horses is to have an accumulator bet. While you are welcome to have a straight-up acca on all of your selections to win, the chances of that coming in are extremely remote. However, bookmakers offer a huge range of different types of accumulator that ensure that you have a chance of winning, even if you don't always back the horse that crosses first:
Yankee – A Yankee comprises of four selections, and is made up of six doubles, four trebles, and an accumulator. This means that only two of your selections need to win for you to get a return, as the six doubles cover each potential combination of winners. This bet is also available as an each-way acca.
Patent – Where a Yankee requires two selections to win in order to secure a return, a Patent requires just one winner. This bet is made up of three singles, three doubles and an accumulator, totaling seven bets overall.
Lucky 15 – A Lucky 15 is pretty similar to a Yankee bet, but it also covers the additional four single bets on each horse. An added perk of a Lucky 15 is if only one of your horses comes in, you are rewarded with the consolation prize of the odds on the winning horse being trebled, and if your luck really is in and all four selections win, your winnings are topped up by an extra 20%.
Lucky 31 – Where a Lucky 15 comprises of four selections, a Lucky 31 takes things up a notch, with five picks. As a result, there are more potential winning combinations, which takes the total bets up to 31. This comprises of five singles, ten doubles, ten trebles, five four-folds and an accumulator. If only one of your horses crosses first, winnings are paid at quadruple the odds, with an additional 25% top-up if your five-fold acca comes home.
Canadian – A Canadian is most similar to a Lucky 31, with the main difference being in the lack of single bets on each horse, meaning you miss out on the consolation odds boost should just one horse win. A minimum of two successes are required for you to claim some money back from the bookie.
Heinz – Named after the famous baked beans manufacturers (because they have 57 different varieties), a Heinz is made up of 57 bets across six different selections. The bet features five doubles, twenty trebles, fifteen four-folds, six five-folds and an accumulator.
As you can see, it is easy to get lost in lots of different types of bet, so if you are looking for an easy, relatively low-cost way to dip your toes in the market, I will start with an each-way Yankee. A 50p each-way bet on this would only cost £11, and is a great way to follow the afternoon's action.
Forecast Betting on Horses
In addition to being able to bet on the winner of a race, you can enhance your odds further by betting on which horse will finish second in the same race. This is called a straight forecast, and is a great way of securing extra returns if you are betting on a short-priced favorite to win.
In addition to a straight forecast, punters can also place reverse forecast bets. While in a straight forecast you have to stipulate an order in which the two horses will finish, a reverse forecast is flexible between the two, so Horse A and Horse B can each finish first and second, and you will still be quids in, albeit at slightly reduced odds.
If you're feeling particularly lucky, you can take things up another notch by placing a tricast (straight and reverse are both available here too), and this bet predicts the first three finishers in a race.
Horse Racing Trading on Exchanges
The emergence of online betting has seen the rapid growth of betting exchanges, which allow punters to act as the bookmaker, and offer money in the form of liability if they were to lay (bet against) a horse. Let's use an example: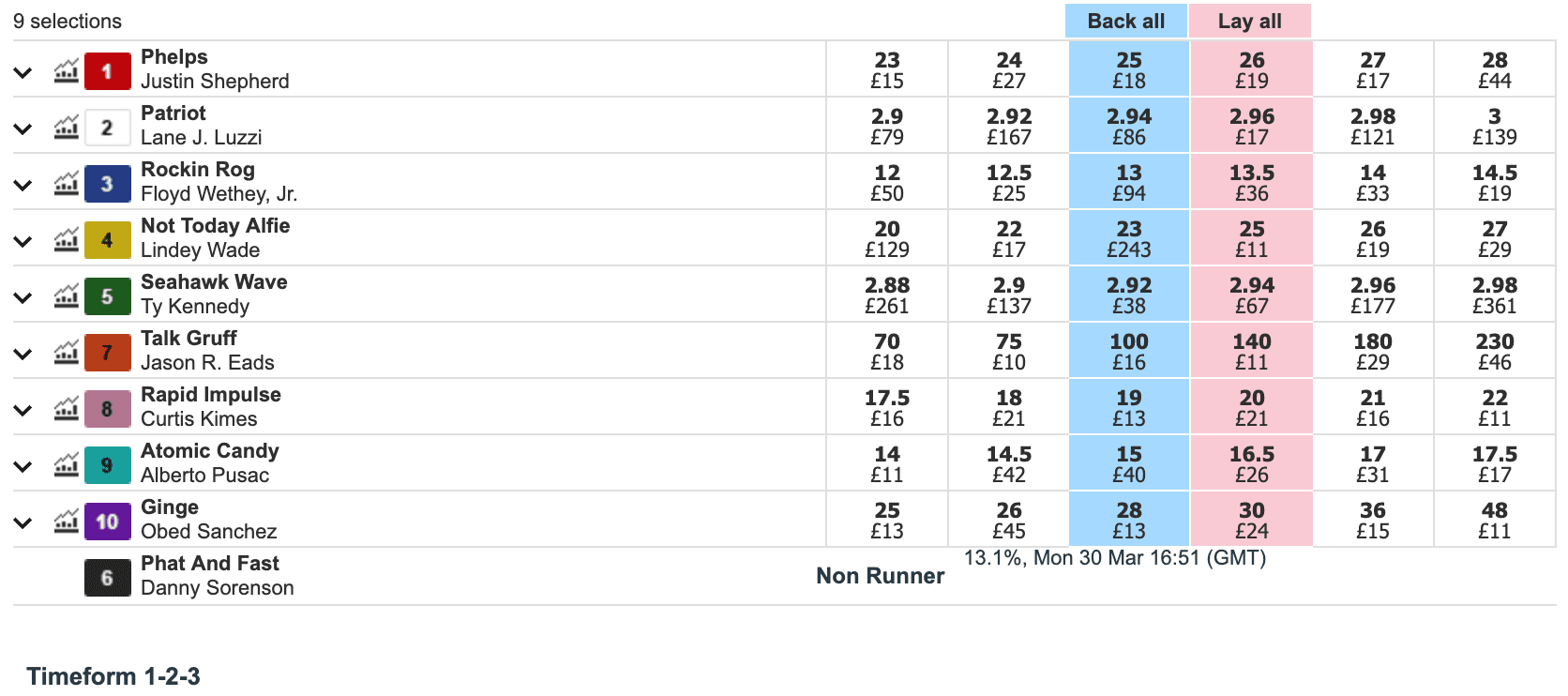 Let's take a look at Patriot (Horse number 2), and focus on the blue and pink strips of odds. Like with a normal bet, you can back Patriot to win at odds of 2.94, but there is also the option to "lay" the bet, or in other words, to bet on Patriot to fail to win the race.
When you lay a bet, you need to have enough funds to cover any potential loss, should your selection actually win. If I was to stake £10 on a lay bet on Patriot at odds of 2.96, I would require £29.60 (£10 x 2.96) worth of funds to cover any bets – up to £10 – on Patriot to win the race. In the case lay betting, your stake is the amount of profit you wish to make.
There is also the possibility to leverage the exchange to guarantee a profit by placing a combination of bets both before and during a race that ensures that you have all eventualities covered, but we will reserve an in-depth explanation on trading on horse racing for now as we would only recommend exchange trading for more experienced horse racing punters, as it is a craft that takes a long time to master, so stick to the basics for now.
10 Golden Rules when Betting on Horses
To finish off, Betting.com' team has compiled a list of ten commandments for horse racing. Be sure to follow these strictly in order to minimize the potential of making any newbie mistakes that could eat away at your bankroll.
1) Check the conditions – The weather report is likely to have a huge impact on the performance of horses in any given race. If rain has been persistent it can leave the course in a "heavy" condition, which makes it difficult for some horses to get the traction they need on the ground to get them across the course quick enough to win the race. So, before placing any bets, make sure you're aware of the state of the ground, which is usually displayed on the same page as your ante-post betting options.
2) Paddock Patrol – It's always important to keep a watchful eye on how a horse is behaving in the build-up to a race. Horses tend to be very emotive animals, and like professional human athletes, are prone to swinging moods and moments of erraticism. If you're struggling to pick between two or three horses, keep an eye on how the horses are carrying themselves as they are paraded around the paddock before the race begins. If a horse is sweating heavily or making life difficult for the jockey and staff before the race has started then the chances are that the horse is stressed and expending energy in the paddock that is being lost on the race itself. Meanwhile, a calm, relaxed horse is likely to conserve its energy for when it really needs it.
3) Research – There is a huge plethora of free information available to punters on a daily basis from a whole range of publications, newspapers and websites. They do all the hard work for you in researching form, handicaps and other useful tidbits, so why not split-test between different sources to see who is bringing home the bacon. Another option for you is to take advantage of tips published by horse racing tipsters. They strive to provide quality service and if you find the right tipster you can have a lot benefits. Another option for you is to take advantage of tips published by tipsters, who are focused on horse racing. They can guide you to the right odds and markets, while you are placing your bets.
4) Don't bet on every race – It may seem obvious, but it can be easy to get caught up in the moment when watching a televised broadcast from a horse racing meeting, and wanting to be a part of the action by placing a wager on every race. However, this strategy can quickly eat away at your bankroll if you are making rash decisions and betting for the sake of it. There are plenty of streaming options out there, so assume that you can access any race in the world, and carefully pick out your selections accordingly.
5) Experiment with new accumulators – Betting on the winner of a race is ultimately the most enthralling way to enjoy the spectacle, but in the long-term it is likely to leave you in the red, as even betting on the favourite tends to be successful only around a third of the time. To be successful in the long-term when betting on horses, you have to be creative. Combination accumulators such as Yankees and Lucky 15s not only give you the luxury of not having to rely on 100% of your selections winning, but they can also be placed at relatively cheap stakes, which can quite easily accumulate into big winnings if your luck is in.
6) Betting with the best odds – If you take sports betting seriously, then you will be having a close eye on your bankroll, so you should also be keeping abreast with who is offering the top prices on each race. Bookmakers are teeming with offers and promotions to reel you into their site, and some also have a clear disparity in the odds they offer from race to race. Make sure you're betting with a bookmaker that has deals that compliment your betting strategy (for example, you could find a bookie that offers a refund if a selection finishes second in a specific race), and make sure you're shopping around for the best odds for each race. Your balance sheet will thank you for it. If you are having trouble finding the highest opportunities, our Odds Comparison is always up and running with the best bookmakers' odds.
7) Get to know the trainers – Your regular novice horse racing punter will probably be able to recognize an established jockey like Frankie Dettori or Ryan Moore, but if you asked them to name the top trainers in the game then they'll probably be left scratching their head. The top trainers like Nicky Henderson, Paul Nicholls and Willie Mullins are all famed for their long-term success, so if you are toying between two options, you may well be best advised to plump for the horse that comes from a trainer with the best caliber.
8) Channel your focus – Such is the sheer depth of horse racing options, it can be easy to get lost amongst the noise and spread your time across all the different categories of racing, which can ultimately leave you hemorrhaging cash because you are simply not channelling enough focus and energy into segments of the market that generate the best ROI. It can be as simple as dedicating your time solely to grade 3 jump racing. In an instance, you have focused your attention on a much smaller data set, which will allow you to make much more informed decisions.
9) Track your bets – We never tire of telling people to do this, because over the long-term it is the easiest way to make sure you are focusing your betting bankroll on markets that have been proven to generate proven ROI. Perhaps you are a natural for the novice hurdles, or are left jubilant by grade 1 jumps? The only way to know is to keep a log, whether that be via the Betting.com bet tracker or via your own internal spreadsheet, which can, of course, be fully integrated with our setup.
10) Ignore the name – This one is fairly tongue-in-cheek as we come towards the conclusion of the guide, but it encompasses a much bigger potential pitfall, which is emotional betting, and links in well with the advice to not bet on every race. Even the most seasoned veterans of horse racing betting have made the mistake of punting on ponies that have a name that strikes a personal chord, whether it be a shared name with a love one, or a quirky childhood reference. While these horses can romp home from time to time, overall you are left empty-handed most of the time, so try to avoid this where possible.