What is Matched Betting and How to Bet on it
Updated on
September 15, 2023
Written by Chloe
What is Matched Betting?
Matched betting is a completely legal way to make some profits by exploiting free bet offers from bookmakers. You don't have to be a gambling expert to take advantage of this strategy. Despite being linked to placing sports bets at online betting sites, matched betting is not gambling at all, because regardless of the outcome of the sports event, you end up with a profit. The best part is that there are no taxes on these profits and everything is left for you to enjoy.
How Can I Bet on Matched Betting?
The only two things you need to know about matched betting is to learn how to do it and to dedicate some of your time to it. We explain in this guide with simple examples and screenshots all the steps you need to go through.
Once you complete the whole matched betting cycle using our free Matched Betting Calculator a few times, you will be completely confident in your ability to bet consistently.
The only other thing you need to invest is a little bit of your time. Matched betting is a great and completely legal way to generate additional income, but you still have to spend the time to execute it.
Luckily for you, we've got you covered in this matched betting guide. We give you the answer to every critical question and provide you with the tools which will assist you in using this strategy and minimise the time you spend on it.
Before you understand the essential info needed about matched betting, you have to know the basic difference between a back bet and a lay bet, which we are going to briefly explain next.
What is a 'Back' Bet?
A back bet is a simple bet for something to happen. These back bets are placed at online bookmakers. For example, you place a bet on Man Utd to beat Barcelona.
If your bet is correct, you win back your stake multiplied by the odds of your selection.
If your bet loses, you lose your stake. Your stake is in practice your liability towards the bookmaker and when you lose, the bookmaker takes your stake from you.
When doing matched betting, you place two back bets with the bookmaker that has given you an offer. The first time you do it to unlock the free bet. The second time you make a back bet using the free bet itself.
What is a 'Lay' Bet?
A lay bet is a bet for something NOT to happen. These lay bets are placed at bookmaker exchanges like Betfair or Smarkets . For example, you place a bet on Man Utd not to beat Barcelona.
By placing a lay bet, you take the role of a traditional bookmaker. Your lay bet stake is the money you wish to take from another punter in case their bet loses, just like a normal bookie would do.
If the bet outcome doesn't happen, you take the other punter's stake. If the bet outcome happens, you need to pay the punter their stake back multiplied by the odds of the winning selection, just like a bookmaker does – this is called your liability.
To illustrate, you place a £20 bet to lay Man Utd in a game versus Barcelona on odds of 2/1. This means you want to take £20 from another guy who bets on Man Utd to beat Barcelona.
If Man Utd loses against Barcelona or the game ends in a draw, you take the £20 from the other punter. If, however, Man Utd beat Barcelona, you need to pay the other punter £20 * 2/1 = £60 (your liability).
The exchange takes the role of an intermediary between you two and they charge a small commission for each transaction.
How Does Matched Betting Work?
Here's the main concept – online bookmakers are giving free bets as welcome offers to new customers, and they are also doing ongoing reload offers for existing customers very frequently. They are doing so because that's a very convenient way for them to attract new players and retain existing players – free bets are extremely popular.
For example, a famous welcome offer that bookmakers are using is Bet £10 Get £30 Free Bet. Here are the steps you need to take:
You place a £10 bet in the bookie on a chosen event to qualify for the free bet. For example, you back Man Utd to beat Arsenal in a Premier League game.
You go to a betting exchange (e.g. Betfair or Smarkets) and lay the same selection. This means you are backing Man Utd NOT TO beat Arsenal in the same game.
With these two steps you have covered every possible scenario in the game – Man Utd to win and not to win. On this qualifying bet, you are expected to make a very small acceptable loss usually up to £1. Don't worry, this is normal, because by doing this exercise, you have qualified for the £30 free bet, and you will make your profit by repeating exactly the same exercise, but this time using your free bet:
You place the £30 free bet in the bookie on a chosen event, for example, Barcelona to beat Juventus in the Champions League.
You lay Barcelona in the same game at the exchange, meaning you bet on Barcelona NOT TO beat Juventus.
Again, you have covered every possible outcome of this event, but this time you are making a guaranteed profit because one of the bets is not placed with your own money but instead is given to you as a free bet by the bookmaker.
In most cases, you will be able to extract 70 – 80% of the free bet amount. This means that by investing roughly 15 minutes of your time to execute matched betting for this Bet £10 Get £30 offer, you will win roughly £21 – £24 profit, regardless of the outcome of the sports event.
Keep on reading to see exactly how you can do this over and over again every single day and accumulate matched betting profit.
How to Place a Matched Bet
To make sure you extract the highest possible profit from each matched bet, open our matched betting calculator in a new tab.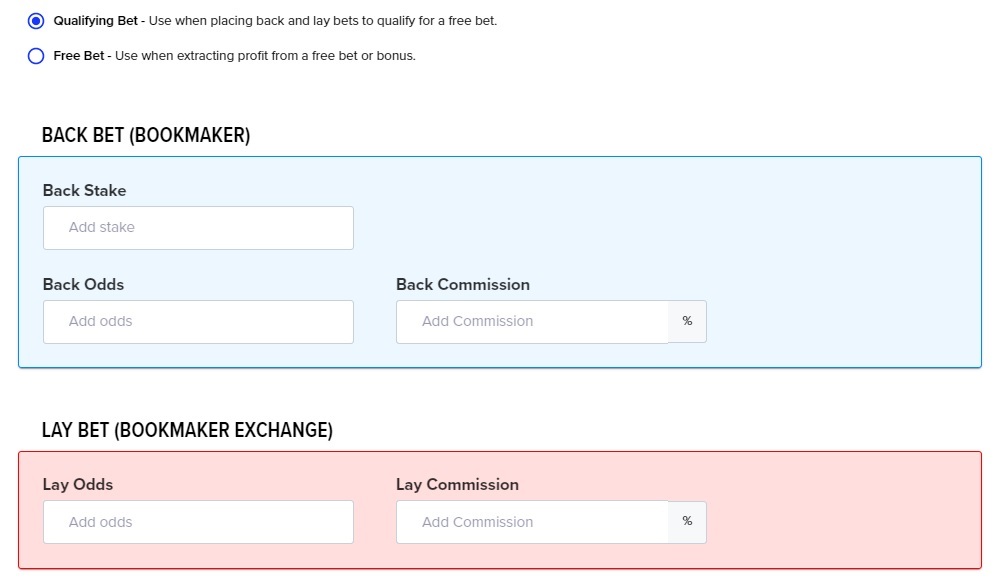 It's very simple to use – you just need to do these 3 steps:
Choose whether you are at the qualifying bet stage (when you want to unlock the free bet from the promotion) or at the free bet stage (when you are actually using the unlocked free bet). Pick your option from the menu at the top.
Input your back bet stake, odds and commission. For example, if the offer is bet £10 get £30 you will put 10 in 'Back Stake'.
Input your lay bet odds and add the commission the betting exchange charges.
After you do these, the calculator tells you how much you need to lay on the betting exchange, and informs you what your liability will be, together with the total profit for you.

Let's go over a specific example so you can feel and understand the whole process put together.
Matched Betting Example
Let's go back to the Bet £10 Get £30 promotion we mentioned before. First, you need to place your qualifying bet.
The best possible results with regards to the qualifying bet are observed when you place it on lower odds (3/5 and below). You also need to ensure the back bet odds at the bookmaker and the lay bet odds at the exchange are close. By doing that, your losses during this first step will be very minor.
For this example, we are picking a Premier League game between Chelsea and Crystal Palace.
Here are the odds at bet365 which offered you the promotion:

And the corresponding odds for the same event at the exchange, in this case, Betfair:

You should do matched betting on Chelsea to win with your £10 stake. In the matched betting calculator you will input the following numbers: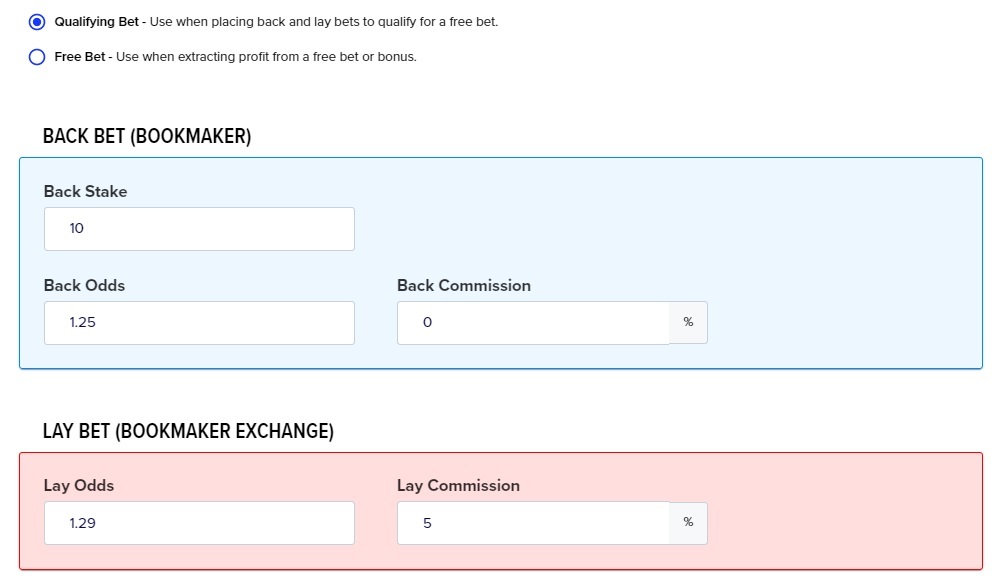 After you do this, the calculator tells you how much you need to lay, what your liability will be and the total profit from this exercise, regardless of the result outcome.

In this case, you will incur a minor loss of £0.42 but this is normal, as now you have qualified for your £30 free bet, where the profit will arrive.
So now that you've got your £30 free bet active, it's time to extract the profit.
This time it's wise to pick odds greater than 6/4 to maximise your profit, but just note that the higher the odds are, the more you'll need to have in your Betfair account to lay it (your "Liability").
Let's pick the following event:


To extract the most profit from the free bet, we will place it on Hebei. We go again in the calculator but this time we pick the Free Bet option and fill in the needed numbers: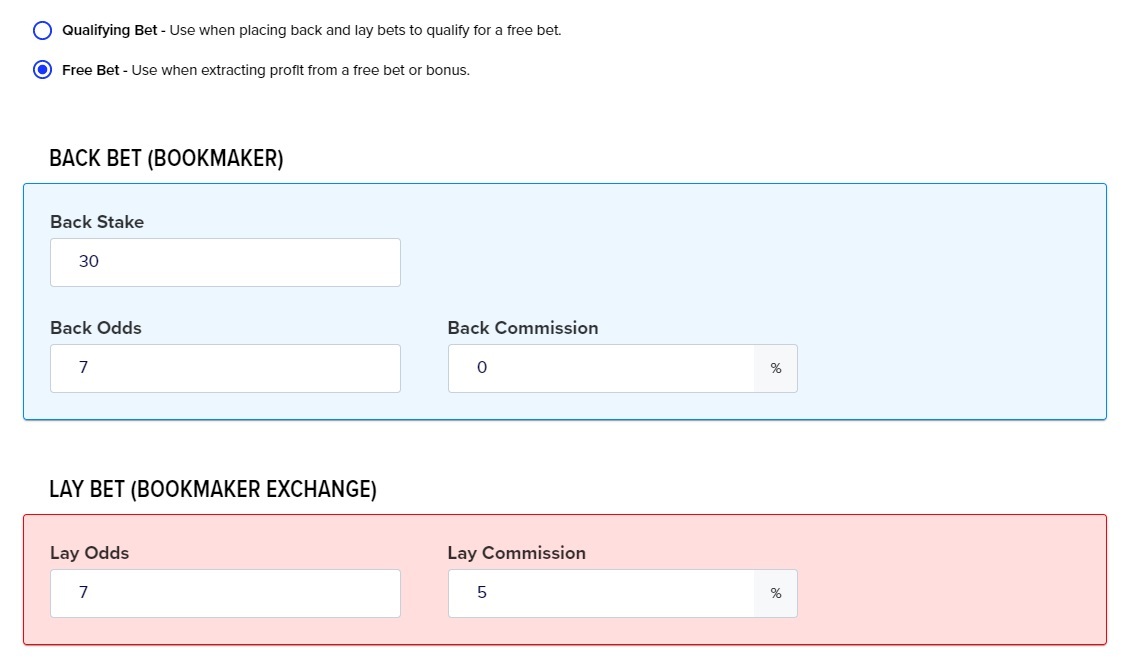 Again, after you do this, the calculator tells you how much you need to lay, what your liability will be and the total profit from this exercise, regardless of the result outcome.

You can see that this time you are going to generate a profit of £24.60. This is because the money with which you are backing Hebei at the bookmaker is not your own money but is given to you for free by the bookmaker.
This concludes the matched betting cycle. After doing this two-step exercise a few times, you will become accustomed to it. Afterwards, investing several hours per week to execute this matched betting strategy will bring you a nice monthly profit.
Two important notes:
N.B. 1 We strongly advise you to avoid placing the exact lay bet stakes that the calculator shows, in this case, £25.90, but instead to round it up to the nearest 0.5 – in this case, your best move would be to place a lay bet of £26. This will take a few pennies from your profit but will keep you safe from the radar of bookmakers.
If you are continuously placing bets with random numbers such as £10.08, £15.69 and so on, you can be flagged in the software of bookmakers as a potential bonus hunter and you will risk your account being limited. Instead, always place bet stakes such as £10, £15.50, £18 etc. Please refer to the last question in the FAQ section at the bottom of this article to learn more about how to avoid being gubbed by the bookies.
N.B. 2 Before placing your qualifying bet, read carefully the full terms and conditions of the bookmaker offer. Very often there are certain conditions for the qualifying bet placement, for example, it needs to be on odds of at least 3/10. Similarly, some bookmakers require you to satisfy specific criteria for the usage of the free bet. Make sure to read the terms before placing the matched bets.
What are the Risks of Matched Betting?
Matched betting is a strategy bringing profit provided that you follow the instructions in this article.
The risks of something going wrong are only possible due to a manual human mistake when you are placing your matched bets.
Below are the most common manual mistakes and how to avoid them.
Read the Terms of the Promotion
Before placing your qualifying bet, make sure to read carefully the full terms and conditions of the free bet promotion.
As we just mentioned, you don't want to place your qualifying bet on odds of 2/5 only to find out later that the minimum odds requirement is 1/2. In this case, the bet that you have placed on odds of 2/5 won't count as qualifying for your offer but just as a regular bet, and you will need to place the qualifying bet again.
Similarly, sometimes you will be required to place the bet on a specific sports event, for example, a frequent offer bookmakers do is "Bet on the game pre-match, get a free bet for live betting during the same game". Invest a few minutes to get familiar with the promotion rules before extracting your profit.
Make Sure You are Placing the Correct Lay Bet Stake
This is the main reason you are using the matched betting calculator for. Before placing your lay bet at the exchange, check for a few seconds that you have entered the correct back bet stake, back bet odds, lay bet odds and the commission that the exchange charges.
Afterwards, place your bet according to what the calculator tells you:

And remember what we mentioned before – round up your lay bet stakes. In this example, instead of placing a £23.03 lay bet, place a £23 one. You will sacrifice a few pennies but you avoid the risk of bookmakers flagging your account which is very important because then you will be able to enjoy matched betting for a long time.
Avoid Your Bet in the Exchange Being "Unmatched" or "Partially Matched"
Such cases are very rare, but you need to be prepared so that you can avoid this happening.
What does an unmatched or partially matched bet mean at Betfair, Smarkets or another betting exchange?
It means that there isn't enough money on specific odds from the backers to match the amount of your lay bet (which is the amount you aim to win from another person who makes a back bet).
Let's illustrate this with an example:

On this event in Betfair, like in any other event, the lay odds are in the pink boxes. Below the decimal odds, you will see a monetary amount (£ XYZ). This shows you the total amount of money on offer from backers of this selection at the given odds. Imagine that you've successfully completed the qualifying bet stage of a matched betting offer. For the free bet, you've chosen to back Legia Warsaw at the bookmaker. Let's say the calculator is showing you this for the lay bet stake:

Your required lay stake in this case (£23) is higher than the money available in Betfair to lay Legia Warsaw at odds of 7.0 (£17 as seen in the first screenshot above) which means that if you place a £23 lay bet on these odds, it will be just partially matched, and the remaining £7 will need to be placed on higher lay odds which increases your liability.
Your other option is to wait for your remaining £7 to be matched on the original odds but there is no guarantee that this will happen.
Sometimes your bet can be fully unmatched, particularly if the event you are betting on is close to its starting time. That happens because during the seconds you are placing your bet, another lay bettor could place the bet instead of you and take the available money on the table from the backers.
If you face a situation where your bet is fully unmatched, cancel your bet immediately and instead find another event, or bet on the same event but with the new slightly different odds available.
In general, these situations are rare, and you should aim for selections where the number in the pink box below the odds is with at least three digits (£XXX) to give you an extra cushion for any last-minute movements in the market. But even if it's double digits, make a habit to check that the number is higher than your lay bet stake, and you will be just fine.
Learn More About Matched Betting
Our guide has everything you need to know about matched betting, but if you wish to explore the concept further from more sources, the links in the references section in the Wikipedia matched betting article contain nice stories about the usage and benefits of this betting strategy.
Conclusion
Matched betting is a strategy that brings profit to you. The strategy is based upon taking advantage of free bet offers that bookmakers regularly provide.
To extract a profit from matched betting, you need to go through two stages – placing the qualifying bet that unlocks the free bet and then placing the free bet itself.
In both stages, you are required to place one 'back' bet at the bookie that gives you the offer, and one 'lay' bet at a betting exchange.
To make sure you place the required amount of your 'lay' bets, you should use a matched betting calculator. By inputting a few numbers like the odds, your stake and the exchange commission, you will know how much to lay on the exchange.
Matched betting can be executed over and over again and each time you do it, you will become more comfortable with the whole process and also quicker. The free bet offers that bookies give you will not go anywhere any time soon which means that if you are willing to invest several hours per week doing matched betting, that can bring you profits above £500 a month. Many people are generating this income.