Often perceived as the more underground side of sports betting, the lay betting market, once mastered, is a great way for punters to go toe-to-toe with fellow players and potentially line your pockets with cold hard cash.
In this article, we take a look at exactly what lay betting is, and how you can leverage betting exchanges to maximize your sports betting profits.
What is lay betting?
Traditionally, when you place a bet on an event on, let's say, a football match, you are wagering money on the event happening. Chelsea to win, over 2.5 goals and both teams to score are all examples of bets where you are making a proactive bet that something will happen. A lay bet works in the opposite fashion, where you are betting that the event won't happen.
Take the example of an over 2.5 goals bet. Rather than betting on under 2.5 goals in the same match, you instead to choose to "lay" the over 2.5 goals bet.
"Why would I do that?" I hear you ask.
Well, let's begin by taking a look at where this kind of sports betting takes place.
Setting the scene
Lay betting is most commonly seen on betting exchanges, such as Betfair, Smarkets, and Betdaq. The key difference between this kind of betting and the more traditional sports betting is that the role of the bookie changes dramatically.
Without going into too much detail regarding the payment structure of traditional bookmakers (because you already know how it works) the William Hill and Paddy Power of this world run on a business model where they intend to make more money from losing punts than the amount they pay out to winners.
Obviously.
On a betting exchange, the bookie acts only as an intermediary (a middle man, if you will) between two punters. On one hand, you have somebody betting against (known as "laying) an event, while on the other side you have punters backing it. Where a bookmaker would usually hold the liability (the funds with which to pay out a winning bet), this responsibility is placed on the parties laying the outcome. Don't panic just yet, as the liability is limited, depending on the lay stake of the punter.
Where to start
Two things for you to think about when picking a betting exchange are the liquidity on an exchange, as well as the commission structures offered by the operators.
It's all well and good when an exchange only takes a 1% cut of your profit, but if there is a small amount of overall liquidity running through the site (usually because there aren't many users on the site) then that greatly limits your earning potential.
Making dollar on Dortmund
Let's say that Borussia Dortmund are 4/1 to win the Bundesliga title on a traditional bookmaker website like Paddy Power . A way for you to potentially cash in on that event not happening is by offering better odds than 4/1 on an exchange, in order to entice bets from folks that think that Dortmund will win the league.
You then create a lay bet of 5/1 with a £100 stake. The stake in this instance is the amount of money you stand to win if the event – in this case, anybody but Borussia Dortmund winning the league – happens. Where the odds of 5/1 come into play is in the form of your liability, which is one of the most important things to keep in mind when placing lay bets.
For every £100 you stake when offering odds of 5/1, you need to be prepared to lose £500. This is known as your liability, and is dependent on the odds you and other punters have offered, as well as your unit stake, which varies from bettor to bettor. Using the example we've talked about, if you wanted to make £10 of profit, you would have to put up £50 of liability. The only issue with a bet like this – that runs over the course of a football league season – is you have liability tied up in a betting exchange for a long period of time, which can be a bit frustrating.
But congratulations, you are now a fully-fledged bookmaker.
Sort of.
By the way if you are still struggle to understand how to calculate your liability, do no worry we have you cover. Simply use our automated lay betting calculator to do the math for you.
Liquidity
While it is very easy to lay bets on markets that have lots of money running through it in the form of back bets, it can be slightly more tricky to make money on the slightly more obscure events. There is no lay bet without a back bet, and vice versa
A back bet is required for a lay punter to make profit from when that back bet loses.
A lay bet is needed in order to create the funds that a punter can win from the layer when backing the bet.
Still with me?
This is known as liquidity. Taking our Borussia Dortmund example, the £500 acts as both the liability of the individual layer, as well as their share of the liquidity in the entire market. Try to think of liquidity as everybody's liability on the lay side combined, as well as the total value of the back bets on the other side. The liability is usually disclosed as a number underneath the odds on the market, and you need to keep a close on eye on this to ensure your bet is matched, either by a backer or a layer.
If you place a lay bet that doesn't have enough liquidity in the exchange, you run the risk of your bet being "unmatched", which means that your bet isn't "live" – almost like a void bet. Make sure there are enough backers of a bet on one side, for you to take advantage on the other side.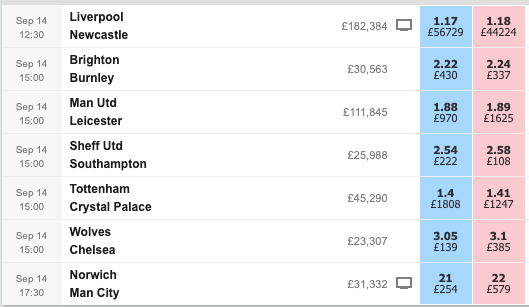 The above screenshot is from a list of upcoming Premier League games. The blue strip of odds relates to the "back" odds in the home win market, while the pink strip are the "lay" odds. Underneath those odds, you can see the amount of liquidity available on each side.
The higher the liquidity, the greater the opportunity is to cash in. Take the example of Southampton's lay liquidity. There is currently £108's worth of unmatched liquidity, meaning a back bet at odds of 2.54 (providing you make a stake that equates to £108 of winnings) would match the total liquidity on the market.
How does a betting exchange make money?
Good question!
Betting exchanges typically work on a commission-based business model, where they take a small cut of the profit from winning bets, so do keep that in mind if you are a stickler for keeping track of profit and loss margins (which I'm sure you are, seeing as you are on the Betting.com site right now…).
Play the short game
If you are just starting off in the world of lay betting and exchanges, then my advice would be to start with a small budget and wager on events that are coming up in the next 24-48 hours so you aren't tying up funds in liability that could be used for traditional betting on other platforms – it will drive you nuts at first.