A significant number of punters are looking into those type of betting in order to try a different experience with the same betting excitement, and simply to win more for less time. On the other hand, the bookmakers are trying to impress the bettors with a wide variety of betting opportunities, and engage their chances for a fast bet. We have received many questions about how virtual sports betting works from people new to betting, why many punters are trying it, and why most of the bookmakers are providing it. All those inquires motivated us to make one special article, this time for virtual sports betting. We created a guide full of comprehensive information that includes straightforward explanations, simple examples, and effective strategies for virtual sports.
If you are a newbie to betting online and virtual sports betting, our comprehensive virtual sports betting guide will teach you about all the advantages of that relatively new but popular type of betting. If you are an experienced virtual betting punter, this guide could help check how much you now as well as gain some extra knowledge, which nowadays is never superfluous.
So, take a comfortable seat, and enjoy reading Betting.com virtual sports betting guide.
What is Virtual Sports Betting
In its essence, virtual sports betting is a simulation of sports games, events, or tournaments, which outcome is decided in advance by an algorithm, software, or a generator. We know that some of you are wondering whether the results are determined by the bookmaker. Don't worry about that, everything is based on an algorithm, which defines the winner on a random principle, so the bookmaker has no control over the final results. Furthermore, all bookmakers are regulated by various institutions so there are strict control measures in place to avoid wrongdoing.
In simple words, you are making a bet on a game, which outcome is decided by regulated and licensed software, and after a minute or two, you could now the outcome and redeem your profit and make a new bet. The simulations are playing on visual models of real stadiums, horse racing venues, basketball arenas, etc. which we thinks is quite engaging and bring you closer to the real game experience. However, virtual sports betting platforms are not allowed to use real club names, stadium names, or players' names, that's why you can come across with funny name variations such as Manchester Reds instead of Manchester United.
Virtual Sports Betting Facts
What is the greatest enjoyment of that type of betting? We have the answer – the endless opportunities for making a bet. Compared to the real sports, on virtual sports, you can place a bet in every day or hour, no matter where you are, what time it is, or what device you use. And the sweetest thing is the fact that you know the results after just a few minutes (depending on the bookmaker that you are using). The majority of bookmakers provide virtual sports lasting between 90 seconds and 3 minutes, so the chances to place a bet are immeasurable.
Another great detail about virtual betting is the simplicity to start with it. You don't need a special sports knowledge, because it isn't helpful as the outcome of the virtual sport events is defined by an algorithm as mentioned earlier. All you need is a bookmaker that provides odds for virtual betting, plus a smartphone, tablet, or computer. Then, you are ready to start enjoying virtual sports that suits your taste.
Given the above facts, virtual betting is becoming a significant part of the regular days of the punters, and you would be surprised that it has become more popular compared to some real sports.
Recommended Virtual Sport Bookmakers
As you know, we are very dedicated to providing you with honest, transparent and useful information. This is why we created a list of 3 bookmakers that we tested and verified, and they are good for virtual sports.
Betfair
Betfair is one of those bookies that are truly dedicated to its users. It created a special place for virtual sports betting, which is fulfilled with a wide variety of sports to bet on. You can wager on Football, Horse Racing (covering Flats, Jumps and Sprints), Speedway, Greyhound Racing (6 Dog Flats and Jumps), Motor Racing, Cycling and Tennis. All virtual games are taking place in every 3 minutes, except for tennis, which is played on every 4 minutes. Often, Betfair provides bonuses for virtual sports, so keep an eye on its promotions page.
Bet365
The biggest online bookmaker over the globe is also one of the significant players on the virtual sports betting scene. It provides plenty of options for betting on every major virtual sports. Besides, bet365 has special virtual tournaments like World Cup, The Premiership, and others, which digitally represent the biggest sports tournaments in the world. With bet365, you can enjoy a virtual betting event in every 3 minutes for football and every 2 minutes for Horse Racing and Greyhounds. According to bet365's rules, the minimum stake on virtual betting is just £0.10, while the maximum daily payout is £50,000 per client. Bear in mind that, you can use bet365's welcome bonus for virtual betting. Another bet365 advantage is that you can enjoy virtual sports on your mobile device.
Betway
One of the well-established bookmakers on the market supports its customers with a vast number of options for virtual betting. Betway gives to its customers 24/7 HD enjoyment through its platform for virtual sports. The bookie is trying to impress the punters with a frequency of virtual sports, so when one of the games finishes, the next one is coming after a few minutes.
Virtual Sports Advantages
Alternatives – You have plenty of opportunities to place an alternative bet, without thinking about real statistics, players' names, or things like what time it is. Keep in mind that, each team, event, or horse in virtual sports possess its own statistic, but most of the time, it doesn't really matter due to the algorithmic approach of virtual sports.
Easy to play – Anyone can place a bet on virtual sports, no matter how much sports knowledge he/she possesses. It does not require a betting experience, and it is easy to start with.
Attractive – Virtual sports is an attractive way to enjoy betting on regular days. Its results are available after a few minutes, and you can make fast winnings. On the other hand, you can compensate for the losses quickly, because the next game is starting after 3-4 minutes which it can be summarized as never-ending fun. Of course, virtual sports are kind of gambling so you should never bet too much, or with sums of money you cannot afford to lose – be cautious.
Availability – The majority of bookmakers are already prepared with plenty of virtual sports betting opportunities. Most of the betting companies place virtual sports on the top of their websites. If your bookmaker is experiencing a lack of that type of bets, but you tend to try some virtual sports, you can always check our bookmakers' reviews, where we always mention whether the examined bookie provides virtual sports or not.
High-quality entertainment – Most of the bookmakers provide high-quality video streaming for virtual sports. Furthermore, the best bookmakers give extra enjoyment through features such as commentary and graphics that make you feel like you are at the stadium or the arena right next to the players. Additionally, you can even check in-play statistics for some virtual games.
Virtual Sports Disadvantages
Sports knowledge – the bettors, who are possessing extra sports knowledge which they accumulated for years, would be disappointed because they can't use the obtained information when they place bets on virtual sports. The virtual sports are not dependable on the real sports, so your sports knowledge can't really help you to make more winnings.
Spending money– More opportunities for bets mean more possibilities for spending your money. That's why we advise you to think before placing any bets because you can put yourself in an unpleasant situation for a few hours.
Luck – Every win in real life is impossible without luck. Moreover, when you are placing bets on virtual sports, you need extra luck, because this type of betting is based on that. If you feel unlucky today, it is much better to miss the betting on virtual sports as you can experience losses.
Missing features – If you decided to place virtual bets, you have to know that you can't use some of the popular betting features with which you are familiar from the real sports betting. Cash-out is unavailable, odds comparison is impossible, and you are placing your bets with the odds provided by your bookmaker. In-play betting is also not allowed, which makes sense, especially given the fact that the games are not long enough.
Real excitement – Unfortunately, even in the modern world, where everything is online, 3D, 4D, etc., nothing can replace the enjoyment of watching a real sports clash. However, virtual sports are possessing many other advantages which you can explore.
Tipster services – another huge minus is the fact that the virtual sports bettors can't take advantage of any tips provided by the sports tipsters. The explanation about that is simple – this is just a virtual simulation, and no tipster would be excited to post tips to his/her followers for virtual sports. It could cost them a lot – reputation, time, and money, that's why tipster service for virtual betting is not available.
Maximum payouts – The most popular real events have maximum payouts around 2 million dependable on many variables. Based on our knowledge and research, virtual sports winnings are restricted to a few thousands. Meaning that you are not able to make incredible profits from one single game. Keep in mind that the games also last for a lot less so if it is your lucky day you can win a few times a couple of thousands.
Combinations with real sports – Before you start with virtual sports betting, note the fact that is not allowed to combine virtual and real sports bets.
Bet Tracker – It is very popular for the betting punters to use bet tracker in order to track and analyse their betting history. Unfortunately, if you bet on virtual sports, you can't gain any advantages if you track your bets, because everything happens really fast, it is a simulation, and simply you don't need to store such a history.
Which Are The Most Popular Virtual Betting Sports And Markets?
The majority of the bookmakers are keen to add as many as possible virtual sports to their portfolio. Most of the bookies provide virtual sports that include football, horse racing, basketball, tennis, speedway, and Greyhound Racing. The bookmakers are striving to provide excellent betting experience, enjoyment, and opportunities to their customers, while the latters are trying to make wins.
With regards to the markets, most of them are same as the usual real betting on sports.
You can find many virtual betting markets offered by the bookmakers, but the most popular ones are:
Win
You bet on the outcome of the game/event. It's a usual form of betting, and you should predict which team or horse will win the game. Keep in mind that more often the odds are close, so you have to make a choice based on what you feel.
Goals
You can bet on how many goals will be scored on the game, first goal scorer, specific player to score, or exact time of a goal.
Correct score
That type of betting requires you to guess the exact score of the game. This market could add more profits to your account because you can find high odds, but with larger risk.
Each Way, Tricast, Forecast
For the horse racing lovers who want to bring the fun to virtual races, the same rules apply as the real horse racing betting.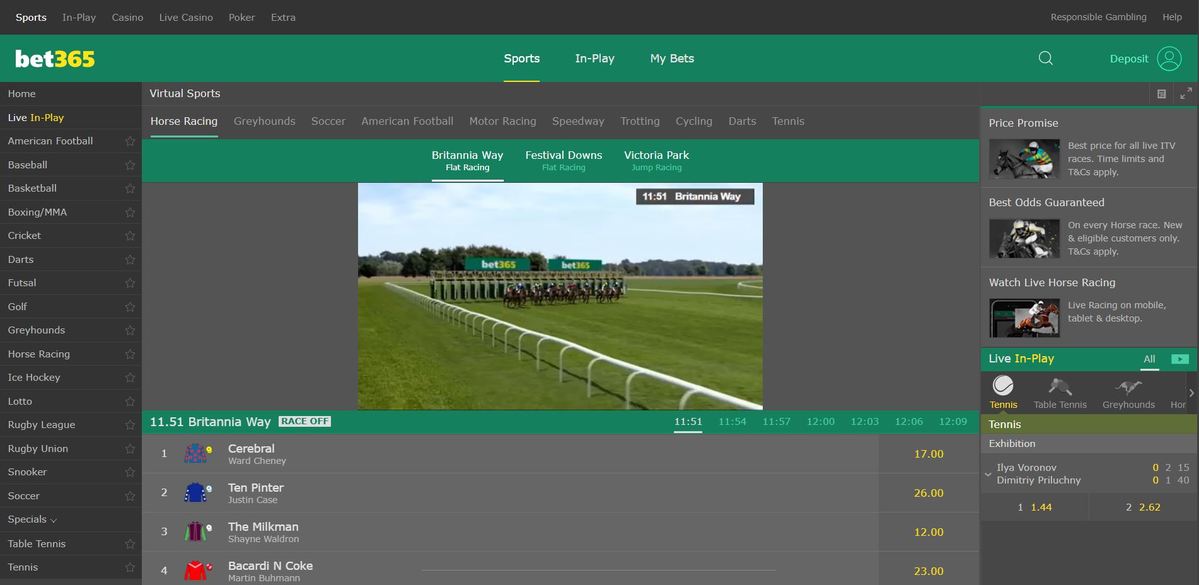 Virtual Sports Strategy?
Honestly, there couldn't be such deep strategies for virtual sports, however, based on our experience, we want to share some ideas with you that can eventually help you in your virtual betting adventure:
Over 1.5 goals – Our observations are showing that when a virtual game has a clear favorite, the odds for over 1.5 goals are between 1.20 and 1.30. This is not so much, but if you successfully combine it with another game, you can return good on your wager.
Bet on the weak team – Another approach that you can adopt is to place your bets on the side that is not considered a favourite (known as the underdog). Often, the simulator generates surprises, and you can make a significant return on your bet, if you are brave enough. Of course, that is not happening always, but it's happening from time to time, so the high odds could be very attractive when you are willing to take the risk.
Odds guide – In every betting sport, the odds are showing what is most likely to happen in a particular game. The same goes true for virtual odds. That's why, if you are happy with small but frequent profits, you can let the odds guide you.
Multiple betting – If you found your odds, but they are low and not imply good winnings, you can always make a bet slip with multiple selections that can fill your pockets.
Please note that the above is just observation we came across through experience and betting on virtual sports. We do not provide any guarantees that the same will happen to you due to the algorithmic nature of virtual sports. You are most welcome to try some of them yourself, but as with any form of virtual gambling, sports are involving risk of losing your money. Please always bet responsibly and for fun, never bet with money you cannot afford to lose. We support responsible gambling, so if you ever feel you are losing control over your emotions and actions, please stop betting immediately take a break for a few months.
Betting.com's Virtual Sports Betting Tip
First and foremost, as with all other types of betting, we strongly advise you to make the most of the bookmaker bonuses. There are hundreds of reliable and regulated bookmakers where you can open an account and bet on virtual sports. All of them will have welcome bonuses or special offers exclusively for virtual sports. Our advice is to make the most of all bookmaker promotions out there, as literally, this is free money you can use in order to bet on virtual sports and have plenty of fun.
Lead by our dedication to helping you with virtual betting, we would like to give you some advice in order to make your experience successful. Firstly, always try to avoid any gambling habits. Virtual betting is a quick way to make some winnings or losses, and you may not even understand that it becomes addictive. That's why, if you have that feeling, don't chase your losses, stop immediately, and ask for help.
Second, if you adopt virtual sports betting, create your special way of placing bets. Whether it is a strategy or a special odds or team to follow, always make sure that you know what you are doing. Don't waste your money without an aim
Virtual Betting In Short
We made sure to inform you about the most important rules, advantages, and disadvantages of virtual betting. Our article was written with the major aim to show you how virtual betting works, which are the best bookmakers to have an account with as well as provide you with some strategy for maximising the fun of virtual sports. Undoubtedly, virtual betting is a way that could make your betting more enjoyable. It is worth a try, but make sure to look at it as a fun style of betting. The virtuals are gaining more and more popularity in the betting world with their incredible betting options, round-the-clock games, and high-quality entertainment. All those facts make virtual matches an attractive place for many bettors, who are looking for a way to switch the focus from traditional sports betting.
If you liked our guide or you have any suggestions, feel free to contact us. Besides, you can check all of our betting guides, which are one useful source of information. We have created all of them with one major goal – to help you during your betting adventure.