Esports betting and odds selection has been taking massive leaps forward and it is expected that bettors will wager billions in the coming years. Luckily the growth of esports doesn't stop there, as it's expected that it continues to grow exponentially year on year.
What is Esports?
For those that don't know, esports stands for electronic sports, which essentially means competitive video gaming. Casual players are called gamers, and the (semi) professional players are esports athletes. Competitive video gaming has been a thing since the first video games were introduced to the public in the 70's. However esports as we know today didn't start to develop itself until the late 90s – early 2000's. One big driving factor for the industry was the introduction of streaming platforms such as Twitch and Youtube that allowed the public to start watching esports games live with masses, which eventually led for the industry to get a rapid growth sprint to the giant it is today.
When something is being played competitively, whether it's traditional sports or esports, there is always an interest for bi-products, one of them being betting. When esports started it's massive growth spurt in 2011-2012, esports betting also started to skyrocket and additional revenue streams for the industry opened up on a scale that not many saw coming. With the rapid growth of betting the variety for odds selection quickly widened too.
What separates esports from traditional is that it's accessible for anyone and everyone who has a mobile phone and internet access. Anyone can open Twitch or Youtube and start watching professional esports games live for free. That's not possible for most traditional sports, as they require paid services for someone to be able to watch. So essentially the possible market for esports is global in the long run. When people, kids especially, get access to mobiles, the first thing they will do is to start playing or watching video games. So the younger generations in the modern world are growing with esports being just as normal as traditional sports. With that being said 10 to 15 years from now people who are in their 20's and 30's have grown up as esports athletes as their idols alongside the football, ice hockey and basketball superstars.
In this guide we are taking a good overview of the different esports betting markets, odds for different esports titles, games that are most relevant for esports betting, tournaments that are relevant and why esports betting is the next big thing in the sports betting industry. In the end we'll have the golden rules to follow if you are to become a winning esports punter.
The Biggest and Best Games for Betting on Esports
Before placing your first bets on esports events, it's important to understand the various different terrains where tournaments and matches are played. Below are some of the most common games for punters to bet on in esports, we have also included some data regarding the games and how much money they have paid out as tournament prices during their lifespan to give a better overview of the scale of esports:
Dota 2
Release date: 9.7.2013 (Pro scene started in BETA and first TI held on 2011)
Total paid out price money: $226,780,152
Dota 2 offers various amounts of betting opportunities with interesting odds. You have betting lines and odds for individual player performances, team performances and then classic O/U lines for total kills by team, player, both teams etc. Dota 2 is not just great entertainment, it's also a great game for punters to bet on. Here are some of the betting lines you can bet on:
Money Lines, Handicaps, Team Total Kills, Player Total Kills, O/U kills in game, 1st Roshan, 1st Barracks, 1st Blood, 1st Tower, 1st to 5 Kills, 1st to 10 Kills, 1st to 20 Kills, 1st to 30 Kills, Game Duration, Total Kills Odd/Even, Winner 3-Way, Player x kills, Player x last hits, player x KDA. etc.*
CS:GO
Release date: 21.8.2012
Total paid out price money: $101,036,331
CS is the FPS (First Person Shooter) game, it has always been and we don't think that's going to change anytime soon. Straight forward, fast paced honest shooter with nothing fancy nor realistic. CS has a large and healthy player base that has been slowly growing and growing, and the growth doesn't seem to end. From a betting perspective CS:GO is intriguing as it offers a good variety of odds and betting lines. There are almost non stop (semi)pro games running live and the vast majority of the pro games are nowadays also open for live odds. On top of all this, CS also offers interesting betting markets:
Money Lines, Handicaps, O/U map amount in BO3/5 series, Knife kill Y/N, Correct score, Overtime?, Team to win X-amount of rounds, Player x kills, Winning margins and much more.
League of Legends
Release date: 27.09.2009
Total paid out price money: $78,654,990
League of Legends, or LoL, is a game in the MOBA category and it's the biggest esports game out there with a player base of 115 million individuals playing the game monthly, and a peak of 50 million daily. Lol is a great esports game for punters interested in esports odds. It has a stable system where you have multiple pro leagues in different regions with seasons for spring and summer and the highlight being Worlds (world championship tournament) at the end of the year. There are quite a large variety of odds and betting lines for LoL games and events throughout the year:
Money Lines, Handicaps, 1st Turret, 1st Blood, 1st Baron, 1st Dragon, 1st Inhibitor, O/U kills, Both to destroy inhibitor, Total Elemental Dragons killed, Elder Dragon killed, Correct score, Total Barons killed, 1st to 5/10/20 kills and quite a few player based performance odds too.
Starcraft 2
Release date: 27.7.2010
Total paid out price money: $33,479,094
The original Starcraft game is said to be the father of esports, as it was the game that started having proper prize pools for tournaments. Starcraft 2 betting is an interesting niche and it offers a wide range of odds for punters to choose on. Very fast gameplay, absolutely insane level of individual skill and rollercoaster of emotions, that's what Starcraft 2 is about, and betting around it just makes watching the games a little more interesting too.
Overwatch
Release date: 24.5.2016
Total paid out price money: $22,049,333
Overwatch is the first FPS game that has been designed by Activision Blizzard Entertainment. Watching Overwatch is overwhelming in the beginning as it looks like a light show especially when teams are clashing together, but don't let it fool you, as the games are a strategic cluster seasoned with high skilled aiming in a fast moving environment. Betting on Overwatch is quite simple and fun, and the style of the game allows punters to have multiple options for different betting lines and odds.
Valorant
Release date: 2.6.2020
Total paid out price money: $1,048,734
Valorant is Riot Games's answer to Overwatch. It took the world with a storm starting with beta in early 2020 and the player count of the game quickly reached consistently over a million daily players. Even though Valorant is very young it already has a pro scene with organisations such as Cloud9, TSM and 100 Thieves having lineups before we've seen a proper pro tournament. Valorant betting is only starting now, but as soon as we see the first official games being played in tournaments/leagues we will see a massive increase in betting and odds for it. You can be sure that there are player and team performance based odds, O/U lines, handicaps and outrights just to name a few.
Best Esports Bookmakers' Offers
In order to save you significant time to search the web for bookmakers' bonuses and offers, we made the efforts to test which bookies are the best for esports betting and odds. Furthermore, those bookmakers provide wide-variety of esports markets, high odds, and exclusive offers and promotions. Below you can check the shortlist of the best esports betting bookies which we've gathered:
The Best Bookies for Betting on Esports
One bookie that is particularly impressive in the field of esports is Pinnacle, who offers an impressive range of markets, with depth that is unrivalled amongst other traditional sports betting platforms. But Pinnacle isn't the only great esports bookmaker out there. Operators such as Betway and Bet365 are both excellent bookies to place esports bets on!
Betting on esports on Pinnacle
The above screenshot is from Pinnacle's offering of markets for a match between Team Aster and PSG.LGD (yes, that PSG) in the DOTA 2 League. As you can see, there is a huge range of different markets, ranging from the first to achieve x kills, right through to an over/under 34 minute game duration market. If you're looking for an esports betting experience that is most aligned with your more typical sports betting framework, then we highly encourage that you give Pinnacle a try.
Betting on esports at Betway
Betway is another bookie that appears to take esports more seriously than its counterparts. While the market depth isn't quite as strong as Pinnacle, the esports-specific promotions they offer constantly are very good and they are very well invested in esports, which also speaks for their commitment towards the industry. Betway is not just a bookie, they are also the main sponsors for esports organisations such as Ninjas in Pyjamas, PSG.LGD and the former MIBR. Betway is a great one stop shop for casual esports punters who like bonuses and campaigns.
Betting on esports at Bet365
Bet365 is one of the bookies that has taken esports seriously for a long period of time, and quite frankly they happen to have high odds for different markets consistently too. At first glimpse the Bet365 website can look a bit overwhelming, but once you have stared at it for a few minutes it all starts making sense. There's nothing that doesn't need to be there, very straightforward and almost blunt design makes the website very easy and simple for the user. What you see is what you get, vast markets, betting lines and odds for all things esports. For those who like something "extra", Bet365 also offers a wide range of bonuses and promotions.
Biggest Esports Teams
If you are making your first forays into the world of esports, it is important to know who the biggest teams in the industry are. These teams have huge rosters, boasting individual players who are among the best in their respective field. The esports athletes competing under the flags of their respective teams are full time professionals nowadays. Just as in traditional sports, esports athletes have a monthly salary that is backed up with performance based bonuses. Teams provide coaching, travel costs, bootcamp areas and some even have their own gaming houses for their players.
Below are top 5 esports teams based on their total winnings from across all esports :
Team Liquid
Team Liquid was founded in 2000 in the Netherlands for Starcraft Brood War. Since then it was competed in Apex Legends, Artifact, Clash Royale, CS:GO, Dota 2, Fortnite, Hearthstone, League of Legends, PUBG, Quake, Rocket League, Starcraft 2, Street Fighter, Tekken, Rainbow 6 Siege and Valorant as their latest addition. All together, Liquid has won over 35 million dollars worth of prize money.
OG
First ever team to win Dota 2 The International twice, and they did it back to back. The power of flowers, friendship and love has been the cornerstone of OG since it joined the battlefields. In late 2019 they expanded their roster by adding a CS:GO lineup to fight under the iconic OG crest.
Evil Geniuses
EG has been part of the esports field since 1999 when it was founded in the US. The organization is competing in multiple esports titles and nowadays it's most known for its Dota 2 and CS:GO rosters. It's worth mentioning that EG won Dota 2 The International in 2015, from which the team was awarded with ~9 million USD.
Fnatic
Fnatic is one of the esports teams that almost everyone knows. They are most famous for their League of Legends and CS:GO rosters, but the organization is also competing in Dota 2, Apex Legends, FIFA, Fortnite, PUBG & Rainbow 6 Siege. Most notable wins are definitely their League of Legends World Championship from 2011 and 3x CS:GO major wins.
Virtus.Pro
VP has Russian roots and it's based in Moscow, but the team has always had a high Polish following due to their previous CS:GO roster which is known as one the best 5man lineups in the history of the game. A bit over 14 million USD in prize money, a CS:GO team, two Dota 2 teams, a couple Fortnite players and a Rainbow 6 Siege team, that's the modern day VP!
While we wouldn't recommend blindly placing bets on these teams while you build up on your knowledge bank, these can serve as a handy guide as you take your first steps in esports. Combine knowledge of these teams with up-to-date research to ensure they are at maximum strength for every fixture.
Odds and Markets for Betting on Esports
Betting on esports is very similar to betting on traditional sports. There is a wide variety of markets for each and every game and while every esports game has their own niche, the general concept is the same. Odds are offered for traditional markets such as the winner, handicaps, map winners, player performances or many other markets that are familiar to most bettors.
Games such as Dota 2, CS:GO, StarCraft 2 and Overwatch to name a few have big differences between them and therefore the betting markets are also different. As you learn a game it will however be very easy to understand these for each given game and if anything this can be seen as a big positive as there are endless possibilities when it comes to esports betting. Learning a new game can be both fun and beneficial at the same time, even if our recommendation is to stick to a few games to specialize in.
We will have a look at how these betting markets can look to explain the basics of esports odds. We have chosen a game of CS:GO between Evil Geniuses and Team Liquid. Betting on CS:GO is one of the easier options as the game does not include complex variables and situations, but mostly comes down to round wins for the teams or simply the winner of the game.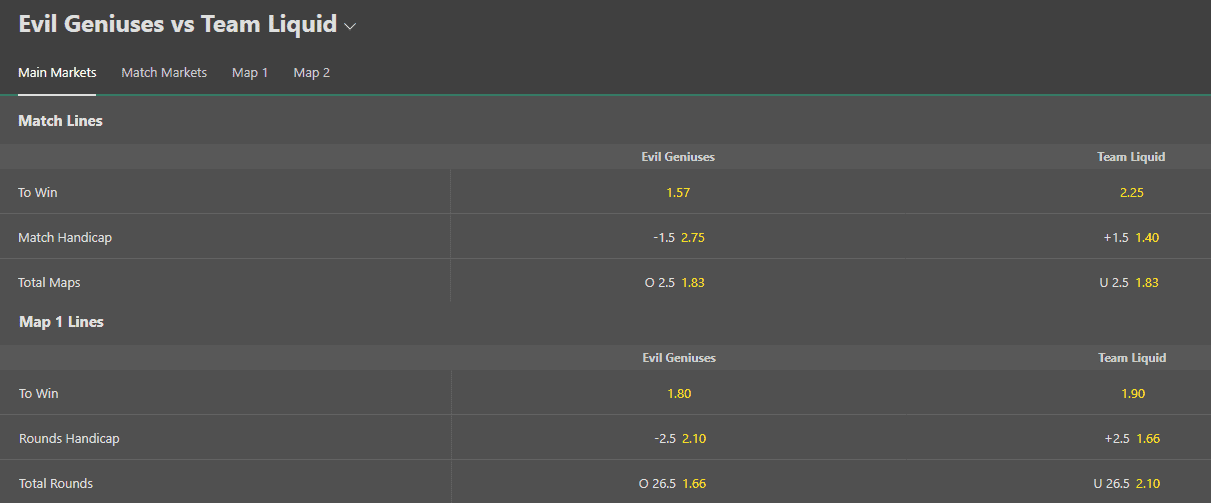 This game is being played best of three, which means that a maximum of three maps will be played and the team to win two first will be the winner. This is very common both for CS:GO and other esports games, even if single map games or best of 5/7 also happens depending on the game and tournament. For CS:GO these maps are played from a pool of seven choices that the teams decide before the game starts and this can have huge implications on the outcome. The goal of each individual map is for a team to reach 16 won rounds to emerge victorious. Let's move on and have a look at what odds we can choose between.
The To Win odds line is fairly straightforward and simply refers to the team that wins the game by winning the two needed maps. As you can see, Evil Geniuses are decently sized favourites as their odds are 1.57 to win the game. We do however also have a choice to bet with a Match Handicap, meaning -1.5 on Evil Geniuses would need them to win the game with a clear 2-0, for the price of 2.75. This option is more often used in a very heavily favoured matchup than this.
Or on the other side you could bet for the other team with a +1.5 handicap. In this case Team Liquid is 1.40 to accomplish that, which would require them to win at least one map, or more specifically they can win or lose by 1-2 for our bet to be successful. For CS:GO betting this option can often be a lucrative one as teams specialize on different maps and sometimes an underdog can still be heavily favoured on a certain map.
This is also reflected in odds for betting on different maps in the series itself. The bookmakers are well aware of this situation, just like they would be having different odds for home/away teams in traditional sports. While this is far from a secret, there are still massive opportunities to study and analyze teams in this way and find the best odds available. Not every esports game has different maps as such, but similar opportunities to find great betting opportunities are available for all of them regardless.
Moving on we also have betting on Rounds Handicap for each map, which refers to how big the winning marginal is in the game, or likewise, how big the losing marginal is. In this game we have Evil Geniuses -2.5 rounds on map 1 for 2.10 instead of the 1.80 they have to simply win the map. This means the team has to win the game by 16-13 or better. On the other side we have Team Liquid with +2.5 for the odds of 1.66, which means the team can either win the game or lose by 14-16 for us to win the bet. Usually draws are not possible in CS:GO, but in the rare case that it is, we would also win this bet.
That summarizes the betting options for this game and if you are interested in other esports games the markets and odds choices offered will be similar, even if tailored towards the specific game. Esports betting is really interesting as the markets are close to unlimited and there are more niche markets than even traditional sports can offer. This also leads to opportunities to find the best odds and value on betting in general, with the right information and research.
You can also place a bet on the outright winners of esports tournaments, which can be a fun, low-cost way to follow your favourite team.
Which leads us nicely to…
Big Tournaments for Betting on Esports
Unlike traditional sports, esports is quite largely based on big tournaments every few months rather than having a league based season. On the three biggest esports games: League of Legends, CS:GO and Dota 2, two out of three are tournament based with LoL being the exception. With that being said esports offers something to bet on 24/7 365 days a year, because there will always be something going on. For occasional punters it's also quite nice, as you can spend couple of days researching just before a big event by reading all the available previews and prepare to bet on the tournament properly as it's a short stint instead of a long full season with more random elements in it. Now, here are the best and biggest esports tournaments and leagues that you should definitely bet on!
League of Legends
League of Legends has a cool region based league system in place. There are 12 Tier 1 leagues that cover the entire world as a whole. We have LEC in Europe, LCS in North America, LPL in China, LCK in South Korea, PCS SEA area, VCS in Vietnam, LCL in CIS region, TCL in Turkey, CBLOL in Brazil, LLA for Latin America, LJL for Japan and OPL for the Oceanic region.
On top of the leagues there are two major events each year: Mid-season Invitational and World Championships. Mid-season invitational is held during the summer between spring and summer seasons and the World Championships is held during the autumn where the best teams from each region battle to be crowned the best in the world.
Dota 2
Biggest event each year for Dota 2 is definitely The International, which is the World Championship of Dota. Teams can either qualify for TI with DPC points that teams collect from tournaments during the year, or then get their spot via open qualifiers. The prize pool is crowd funded via "Battle Pass" that Dota 2 players can buy in game. From each purchase 25% is used to boost the prize pool and 2020 is the 3rd year in a row when the prize pool is over 30 million USD.
On top of TI there are multiple major and minor tournaments throughout the year, some of which are the following: ESL One, Epicenter, WePlay!, DreamLeague (Dreamhack), MDL events and many others.
CS:GO
CS:GO has a system with major and minor tournaments and leagues. One could look at it like this: there are usually two or three major tournaments each year, so you could break it year to two or three seasons with each ending to a major.
Different leagues and tournaments to bet on: ESL One, ESL Pro League, Intel Extreme Masters, Blast Premier, Starladder, Starseries, Dreamhack Master, Dreamhack Open, and much more!
Other games
Starcraft 2: Dreamhack, Global Starcraft 2 League, BlizzCon, Intel Extreme Masters.
Call of Duty: Call of Duty League (CODLeague)
Overwatch: Overwatch League (OWL)
Fortnite: World Cup
Skin Betting
While the most common way to bet on esports is with cash, you also have the option of betting with in-game virtual currencies if you also happen to play the game you would like to bet on. This is known as Skin Betting.
Skin betting originates from the Counter-Strike: Global Offensive. Skins are cosmetics that give your weapons a nicer look, but nothing else. When you watch CS:GO you spot quite quickly that players are carrying the same weapons that have different coloured patterns on them, skins. From each game you play there's a chance that you get a skin or a loot box that has skins inside of it. When you open a loot box with a key that costs around 2USD you get a guaranteed skin. However the rarity of the skin you get determines the value of it. Cheapest ones go out for one or two cents, while the most expensive ones are north of 10 000 USD. This means that these skins can essentially be used as "stakes" in games between opposition, with the winner of the match keeping hold of the skin they staked, whilst also taking the skin of the opponent. Alternatively, skins can be converted into cash on skin betting platforms, and bets would then be placed with that currency.
Be advised at this point that this is an advanced form of esports betting, and should only be reserved for those who have not only extensive knowledge of esports, but also great expertise on games such as Counter-Strike.
Skins can also be used as casino currency for games of roulette, and you can even use them for 50-50 coin flips. However we never recommend playing these roulettes as it's essentially the same thing as playing slots, and with slots the house always wins in the long run even if you get lucky a few times. So if you are betting with either cash or skins, stick with the research you are doing and concentrate on betting based on your research and stay away from the lotteries to get the most out of your betting habits.
Trading on Esports
Trading on traditional sports has seen a huge growth in the last ten years and that trend is also picking up for esports. This is no surprise with the massive growth of esports has seen over the last decade.
Trading is done on a betting exchange, where players place against each other, instead of against a betting operator. This is done through one player acting as the bettor, and the other playing the role of the bookie.
Let's have a look at how this works. We will do so by looking at a game of CS:GO between North and Sprout, from DreamHack Open.

Let's focus on the blue and pink selections. The odds highlighted with blue represents the usual option of North or Sprout to win the game, in this case the option for us is to "back" the team to win the game, just like the traditional way of betting. However, if we want to bet one of the teams NOT to win, we can "lay" them through the pink selection.
On betting exchanges the odds can move heavily due to players backing/laying on a specific team. In the example above, if there would be several bets coming in for North to win, then you would begin seeing the price fall as the market balances out, to allow for bettors to continue engaging and placing bets.
Betting exchanges also gives the opportunity to cash out at a bet to guarantee a big profit straight away. If a team gets a big lead you can opt to "trade out" and get a large portion of your potential winnings paid out straight away. This is done by the exchange automatically placing a bet of chosen size on the opposite to the bet you originally placed. This guarantees a profit regardless of the outcome.
This can be a great option at certain times, but the downside for esports trading is that the liquidity on games often is rather low, making it impossible to use this method. Only the biggest tournaments and leagues for games such as Dota 2, CS:GO and League of Legends get substantial amounts of bets in general.
In-Play Betting on Esports
In-play betting, or live betting, for esports is no different than the equivalent traditional sports. You simply bet on different outcomes on the game, while it's being played. As a rather new option on the betting market for most operators, esports however sometimes lacks a great variety of options, or in some cases it's not available at all. If in-play betting is something you are interested in, it will be crucial to find a site who offers most games and also preferably wide markets. Betting on live esports should interest you, as it's a good option that can offer high value, even more so than traditional sports in some cases. Why is that?
In esports games are often played in a best of three or five format and with different maps throughout the game. Deep knowledge about the teams ability on these unique maps can give a massive edge that betting sites miscalculate at times and we can find edges, especially when we consider how the teams form is looking for that specific day. In other games such as Dota 2 and League of Legends a major part of a teams performance is already decided in the drafting stage, meaning which heroes/champions they have picked. An understanding of how the teams play and how strong their lineups are can lead to great betting opportunities just as the game goes live, or depending on how the game evolves, even later on.
These are just a few examples of how livebetting on esports is quite unique when we compare it to traditional sports, where usually players and teams form is the most crucial factor. The only downside to livebetting on esports is the, still, somewhat limited markets. There are however quite a few great options out there and if you find the right one for your favourite game you will have a great opportunity to find value. It should also be said that esports betting is constantly evolving and the amount of sites offering games is increasing quickly. The same is true for the markets that are being offered for live betting, which are growing at a quick pace, and today it's possible to find significantly more than winner odds on many betting sites already.
High and Low Season When Betting on Esports
One of the many beauties of esports betting is the action never stops. Because there is so much depth to the number of games being played and on various different consoles and formats, there is arguably not enough time to fit it all into just twelve short months, which culminates in an incredibly intensive schedule.
Most of the betting happens during big events such as CS:GO Majors, League of Legends Worlds or Dota 2 The International. Reason is that the majority of the teams, players, fans and media's attention are on the big events. This means that there is more information available, more interest from the public -> higher betting volumes. This also affects odds, but in a positive way. When there are more offerings you can also find better odds a bit more easily. With that said if you are an occasional punter we highly recommend betting on these big events as there is more information available in easy access. With more in depth information you are also more likely to win your bets.
Those who seek to bet consistently around the year can definitely find a lot to bet on from esports. As mentioned above there are leagues and tournaments running 24/7 around the year and if you are following esports on a large scale you can find odds to bet on every single day, both pregame and in-play.
Ten Golden Rules for Betting on Esports
With our ten golden rules for betting on esports we end this guide. Make sure you read, acknowledge and follow these steps as you make your first dive into the virtual betting arena to avoid any unnecessary bankroll losses.
1. Separate Fantasy From Reality: This is more specific to matches and tournaments that feature competitors that are born out of professional sports clubs outside of the virtual sphere. If you are a fan of PSG in football, you shouldn't start betting on PSG.LGD to win just because you see the familiar logo. Research is the key in esports betting, so do not get fooled by the big names you see and ignore research over a gut feeling.
2. Beware of the Unknown: In the real world, teams and players can have off-days, and the virtual comparison to that is the element of unpredictability when players face-off in a one-off match. Because the esports scene is growing so quickly, there is a rapid emergence of a huge pool of new, unknown players. What does this mean? Well, it makes it extremely difficult for bookmakers to price up matches featuring a well-known favourite and a virtual unknown, which can cause you to place bets of poor value. Because of this, try to channel your focus initially on team sports which have much less volatility, and because they are traditionally played over the course of several rounds, there is a much smaller variance in results, so the cream should eventually rise to the top.
3. Shop Around: It's a basic principle when betting on traditional sporting events, but is one you should certainly carry over to the virtual world of betting on esports. Make sure you are registered with the bookmakers and platforms that are offering the best odds in your chosen markets, to ensure you are getting the best bang for your buck. Specialist esports betting sites may be great for depth of markets, but some of the traditional bookmakers have the market clout to be able to offer slightly better odds that will bring in the bigger punters.
4. Check the Format: There are several factors that combine to create a match, but some of the most important ones to consider include the amount of rounds in a match, the maps being used, and the condition of the competitors and their rosters. A one-off match can lead to unpredictability, and while in real-life sports where a team could be depleted by injuries and suspensions, an esports roster is often rotated from event to event because of the heavy schedule. This can have a huge effect on the outcome of the match, so make sure you read up on which individuals are taking part in the match.
5. Choose the games you enjoy: It goes without saying that you should only bet on the esports that you have an active interest in. If you are simply not interested in League of Legends or Dota 2, you are not going to spend those extra hours reading up on form and keeping up-to-date with the latest developments in the game, which can have a detrimental impact on your bankroll. If you are a football fan, you might find Rocket League interesting. For those who are into high paced strategic thinking and insane personal skillevel, Starcraft 2 is made for you. When you start betting on esports, being enthusiastic about it goes a long way in terms of research.
6. Be the bookie: As bookmakers are still attempting to get to grips with esports, they make far more mistakes when compiling odds than if they were to do so in the more traditional sports betting markets. This means there are more opportunities for you to take advantage with value bets. Value bets involve the punter compiling their own odds based on their own perception of the probability of Team A beating Team B, or vice versa. If there is a reasonable difference between the theoretical odds you have put together and those offered by the bookmaker, you have what we would call a value bet.
7. Promotions: When you get used to lots of different bookmaker sites, it is quite easy to get an idea of which ones take esports seriously, and which ones treat is as something of an afterthought. You can tell a lot about a bookmaker by the promotions they offer to esports punters, so make sure you're keeping your eyes peeled. A particular favourite (at the time of writing) is the First Map Wins promotion offered by Betway in their League of Legends markets. In this promotion, they pay out your selection as a winner if they win on the first map in a best-of-five match, which is a great layer of protection if you are thinking about backing an underdog. Specialist esports platforms also offer a great range of free bets and bonuses, so don't be afraid to move away from your usual betting havens and trying something new.
8. Pick Teams to Follow: A simple framework we would suggest trying out when taking your first steps into esports betting is to select a maximum of three games which you would like to focus on, and then select up to three teams within those games, and follow their progress closely. For example, if you want to follow the FIFA circuit, why not "support" teams who are born from professional football clubs, such as Manchester City, Southampton and Werder Bremen. Having a more focused strategy allows you to build up in-depth knowledge of one particular niche, allowing you to become an expert, and while the bookmakers continue to catch up with esports, you can cash in.
9. Track your bets: As betting on esports is likely to be a new venture, it is essential that you track every bet you place, so you can keep a close eye on exactly which games and markets are delivering the best return on investment.
10. Follow the news and join a community: Because esports is such a rapidly changing landscape, it can be easy to lose track of certain developments which can alter the way you place bets. One very good way to be informed is Twitter. Follow the teams and players to make sure you always have the up-to-date info if someone is playing with a stand-in, as that can have a massive effect on the game's result. One player change in Football or ice hockey won't matter as much with larger rosters, but in a 5v5 CS:GO game with no substitutes it makes a big difference. To avoid missing out on vital tidbits of information such as emerging talents, new tournaments and upcoming games, make sure to update your reading list with news sites in the world of technology, gaming and esports. This extra knowledge will help put you one step ahead of the bookie, which should manifest itself in some great profits.